MUSICA: Los Frolics liberar Bombastic el Cinco de Mayo!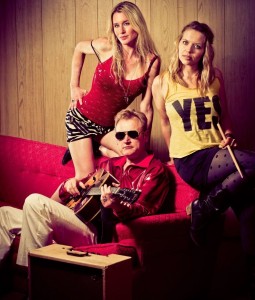 The Saturday forecast is calling for rain – but the Pawn Shop will turn up the summer vibes with margaritas, go-go dancers and a smoking hot CD release to celebrate Cinco de Mayo.
Local surf-rock favourites the Frolics will drop its brand-new full-length album, Bombastic. There's lots more going on, with the opening acts White Lightning and Cape Breton's Slowcoaster, followed by what we expect will be some extra-festive tracks by the DJs at the weekly Transmission dance party.
"As soon as you walk in it's going to be one big party," says Frolics singer-bassist Amy Fralick. The band has even enlisted two burlesque dancers for the occasion.
The Frolics recorded Bombastic in Nashville with producer Eric Fritsch, who had just finished a session with Sheryl Crow when the trio walked into the studio. The trip was something of a family affair for Amy, whose husband Scott is the band's guitarist. The couple also brought their two-year-old daughter on the two-week trip. Amy's mom even joined them for a week and added vocal harmonies on the track Chica.
"She was a big help that first week with our daughter. We wouldn't have gotten anything done without her help," Fralick says.
The band's third full-length album puts a uniquely spaced-out twist on its trademark high-energy surf sound while keeping the strong pop hooks fully intact, atop highly danceable beats from drummer Ali Dayton. The track Love Game even features saxophone from Jim Hoke, who was played with the likes of Dolly Parton and Emmylou Harris. The resulting sound is prime fodder for a Quentin Tarantino film, a fact Fralick is well aware of – on the track called Tarantino, she screams not-so-subtly, "Hey, hey, Mr. Tarantino, we want to be in your movie!"
They haven't gotten the call from Tarantino yet, but they will have Russ Meyer films playing on the Pawn Shop's projectors during the show. The Frolics will also make an appearance on Citytv's Breakfast Television Friday morning between 8 a.m. and 8:30 a.m.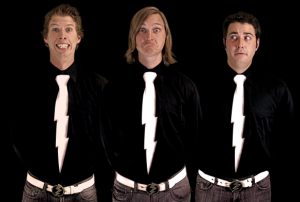 White Lightning (right) promises to be no less lively, with a highly interactive stage show.
"We try to incorporate as many engaging moments as we can," says singer Steve Bosch. "We'll definitely be getting people up on stage playing some instruments with us. We'll be doing kazoo solos and beat boxing, maybe some ukulele, I don't know. Whatever comes to mind."
The self-proclaimed "epic indie rock band" played with the same philosophy on its catchy 2011 Edmonton Music Award-nominated album See It All, which incorporates choral and "stomp" pieces, as well as trash cans, a shotgun blast, and sounds recorded in a 30,000 bushel grain bin.
"I guess after listening to so many albums after the years we just picked apart all the things we loved and started to bring them together in our own way. Lots of it was just random, too," Bosch says.
White Lightning is currently working on its next album, which will no doubt take the trio one step closer to its goal of world domination.
If you're still not convinced on the fun factor, the band will also debut its cover of (Shake, Shake, Shake) Shake Your Booty by KC & the Sunshine Band.
Arriba!