WEEKEND MUSIC PREVIEW: Great Lake Swimmers conquer prairies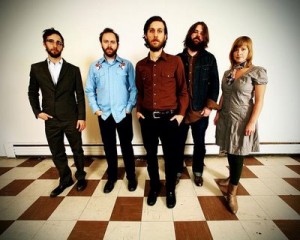 This weekend features an incredible array of live music choices, including a bevy of local acts that were either nominated or took home an award at last weekend's Edmonton Music Awards – including two-time winner Zerbin. But there's plenty of incredible touring acts in town as well, with Big Wreck performing on Friday night, Great Lake Swimmers on Sunday, and Sleepy Sun on Monday. And don't forget a dueling pair of release parties for Saturday night, unveiling new albums from The Frolics and Tiff Hall.
Friday
Ben Disaster – This local eclectic-rock group headlines the fifth AV Art Show at the Artery, which will also feature performances from J. Eygenraam and Jesse & Oliver. Various works from a quintet of artists will also be on display. 7:30 pm, $10.
Alice Kos – This remarkable folk-songstress has released one of the absolute standouts albums in Edmonton this year – "You Missed It All." She'll be performing at the Elevation Room (in the basement of Transcend Coffee) along with Amy Van Keeken and The Utilities. 8 pm, $10.
The Steadies – The frontman from this Saskatoon electropop/reggae act – Earl Pereira – got his start as the bass player for Wide Mouth Mason. If you miss them this weekend, they'll also be performing as part of the Open Sky Music Festival June 8-10. Thrillhouse, Hale Hale, and Knibb High Football Rules are also on the bill. Pawn Shop, 8 pm, $10
100 Mile House/Zerbin – Yellowhead Brewery is hosting a fundraiser for the World Fit For Children organization featuring these two bands. The latter act just won two Edmonton Music Awards last weekend, but simultaneously had their van broken into while on tour and had $20,000 of gear and valuables stolen from them, so they could use your moral support if nothing else. The extraordinary pianist Jenie Thai is also on the bill. It's a formal affair, so find your black tie and jacket before heading over. 8 pm, $20.
Big Wreck – Reuniting in 2010 after an eight-year hiatus in which the frontman Ian Thornley had a successful run as a eponymous solo act, the band released their newest album "Albatross" in early March of this year. Rikers also performs. Edmonton Event Centre, 8 pm, $25. Tickets here.
Saturday
Frolics – Playing one of two album release parties this weekend, The Frolics were nominated for an Edmonton Music Award last weekend in the Artist To Watch category (as was Alice Kos from above, incidentally). Slowcoaster and White Lightning (also an EMA nominee) also perform, Pawn Shop, 6 pm, $12.
Tiff Hall – The other release party is over at the Artery, featuring this incredibly talented pop act. Sean Burns is also on the bill; get there early, the venue's pretty small. 8 pm, $12.
Silent Line – A night of metal awaits fans at, where else, Avenue Theatre. This local band, along with Eternal Prophecy and Eye Of Horus, will be featured. 9 pm, $5.
Sunday
Great Lake Swimmers – This highly lauded folk rock act (above) from Ontario released their newest album "New Wild Everywhere" in early April to almost universal critical acclaim. They cracked the Canadian alternative charts for the first time with the first single off the album, "Easy Come Easy Go." Opening will be fellow a fellow Ontarian band: the doom soul act and mind-blowingly captivating Cold Specks. McDougall United Church, 8 p.m., $25. Tickets here.
Monday
Sleepy Sun – One of two can't miss events on Monday is this psychedelic rock quintet from San Francisco. Their album released earlier in April, "Spine Hits," is receiving an amazing amount of buzz throughout the blog-o-sphere. Opening is two well-known local acts, Krang and Jessica Jalbert. New City Legion, 8 pm, $8.
John Prine – This beloved folk singer also graces the city with his presence the same night, as he'll headline the Winspear Centre on a bill that also features Kendel Carson and Dustin Bentall. 8 pm, $51.50 and up. Tickets here.