CKUA move may leave arts groups homeless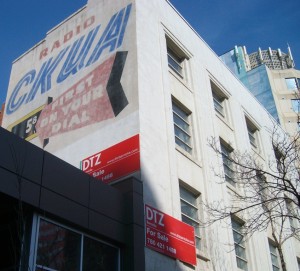 A number of artists and arts organizations could become homeless when CKUA pulls up stakes from the Alberta Block and moves further east on Jasper Avenue to the newly rebuilt Alberta Hotel.
The venerable radio station currently rents office space to about a dozen musicians, artists and organizations, including the local musicians union, for considerably less than market value. And while the station says there will be space available in its new digs when it moves later this year, it says it can't offer rents anywhere near as low as they are now.
Ken Regan, CKUA's CEO, says the station plans to lease 2,000 square feet of space in the Alberta Hotel to other tenants and would ideally like to bring all of the current building's occupants with them. But the rate in the old building is only $7 to $8 per square foot, which is CKUA's cost of maintaining the space, plus $1, and the minimum cost for maintaining space in the new building will be double – roughly $15 to $16 per square foot (which is still lower than the going market rate of $22 to $23 per square foot).
"I don't know how many of our current tenants will be able to afford it," says Regan. "I know it's really hard for independent artists and musicians to afford space."
Gig City broke the news in April 2011 that CKUA was selling the Alberta Block at 10526 Jasper Avenue, which has been its home since 1955, and would move into the Alberta Hotel across from the Shaw Conference Centre. The station bought the new building from local architect and developer Gene Dub, who originally intended it to be a boutique hotel, but agreed to sell it to CKUA instead, while he bought the Alberta Block from CKUA.
Regan says CKUA can't charge lower than what it costs to maintain space in the Alberta Hotel because that would mean subsidizing the rents, which he explains is something they're not able to do. He says rates have been unusually low in the old building because the station hasn't been doing maintenance in anticipation of the move, which he expects to happen this fall.
Dub, meanwhile, admits the plight of the building's other tenants has caught him off guard.
"I didn't even realize there were people being kicked out of the CKUA building," Dub said when contacted this week. He says he doesn't know what his plans for the Alberta Block are yet, but he anticipates the interior will have to be gutted, and that means whoever is left there can't stay once CKUA leaves. He's involved in another development in the McCauley neighbourhood which will be providing affordable housing for musicians, and suggested space might be possible for some of the CKUA tenants there. However, he says the building is primarily residential space.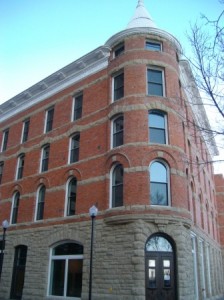 Linda Huffman, executive director of Arts Hab, which helps Edmonton artists find affordable housing and work space, says there's "extremely little" space available for $7 to $8 per square foot. The musician's union is already looking for a new home. The Edmonton International Jazz Festival, which used to have its office in the Alberta Block, has already moved out in anticipation of CKUA's relocation. Nathalie Tait, the festival's outreach coordinator, says an opportunity further West near Jasper Avenue and 116 Street came along in October and her organization decided to take it. While the festival liked being with CKUA and would have preferred to continue to be in a building with them, Tait says CKUA couldn't tell them when they'd be moving or how much new space would cost.
"We knew that the move was coming eventually. This location happened to come along and we decided to be proactive," Tait says.
CKUA plans to have a public performance space in the Alberta Hotel and will have better storage facilities for its massive record collection. There will also be a pub which will resemble the hotel's original bar – part of the Dub's conditions of the sale to CKUA.
The original Alberta Hotel was built in 1903 about a half a block from the current site, but was dismantled in the 1980s to make way for Canada Place. The bricks and some other materials were kept by the city in storage and have been used in the new building.
Regan says CKUA wants to keep the artists as tenants because of the synergies that exist with the station.
"In a perfect world, we've expressed to them that if they want to come with us, they're more than welcome."