k.d. lang, Leonard Cohen in imaginary Edmonton poetry slam standoff
k.d. lang vs Leonard Cohen in a no-holds barred poetry slam.
Well, that WOULD be something, wouldn't it?
It's not going to happen, but it would be something.
With the great man here on Nov. 18 at Rexall and lang here Sept. 12 at the Jubilee Auditorium with her Siss Boom Bang band, this is looking like quite the pensive and thoughtful concert season….interrupted by the usual mindless crap we all love but hate to admit we love. On occasion.
Oh, and some cowboy punk. Alberta's own is going back to her roots a little. Lang says the new band and a new approach to her show give her a new challenge.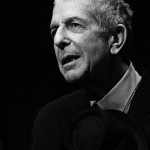 "I love going where I'm not supposed to go. I love being the underdog, I've always loved being the underdog. I love feeling like I'm starting at square zero again. I thrive on it. I always felt like there was a part of me that wanted to continue the cow punk thing."
Tickets for both shows go on sale this Friday at 10 a.m. at Ticketmaster.com