Slash returns to Edmonton July 16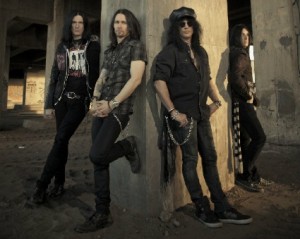 Axls? He don't need no stinkin' Axls!
With apologies to the Treasure of the Sierra Madre, the high priest of gargantuan Gibsons, the top-hatted terror, the 40 ounces of fuzzy hair that is Slash is returning to E-town for a show at the Jube on July 16.
Slash and special guests Monster Truck are here as part of a North American tour. It comes fresh of Guns n' Roses induction into the Rock n' Roll Hall of Fame, which wasn't without controversy thanks to Axl Rose's decision to show us what a principled dude he is by … turning down the Rock n' Roll Hall of Fame.
What next, he won't eat tune from gill nets? The mind reels….
The tour is to back a new album coming out called Apocalyptic Love, which the fret wiz recorded with the band Myles Kennedy and the Conspirators. Exclusive fan pre-sale stuff begins at 9 a.m. Wednesday at www.slashonline.com, including the usual ultra-pricey stuff, like signed guitars and such.
General tickets go on sale through Ticketmaster this Friday at 10 a.m.