Elton John comes full circle for area ballet star in Love Lies Bleeding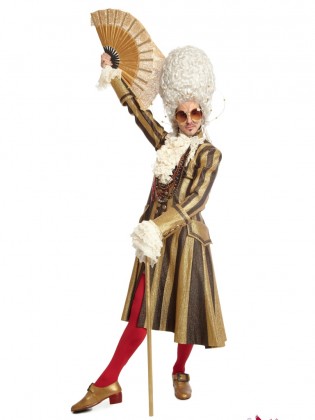 Consider the Six Degrees of Elton John in Alberta Ballet's production of Love Lies Bleeding, at the Jubilee Auditorium Thursday through Saturday.
The ballet is based upon the life and music of Elton John, who is being played by dancer Kelley McKinlay, who grew up in Fort Saskatchewan, where he did not hang out with the hockey kids, who might've said something like "ballet ain't fer lads!" which is exactly what the coal miner dad said before he saw the light in Billy Elliot, which was recently made into a musical by – you guessed it – Elton John.
"That's a great segue right there," says McKinlay with a laugh.
Like musical theatre, modern dance has invaded the mainstream with a vengeance. Shows like this are part of the reason. McKinlay says he was first exposed to Elton John's music through Disney, which firmly fixes his age (29) because most (older) Elton John fans wouldn't necessarily cite Disney as their seminal Elton John moment. Only well after the Rocketman racked up all those classic hits – many of them reinterpreted in Love Lies Bleeding – did he become One With Disney.
"I was a huge fan of Disney," McKinlay says, "so it was hard not to know some Elton John songs. Even now. Maybe it's because we've done this ballet, but it seems like everywhere you go they're playing Elton John. He touched so many different generations."
Television dance shows have had a huge impact on the popularity of modern dance – for fans and dancers alike – and if you're expecting McKinlay to dump on So You Think You Can Dance? and its ilk, you'd be wrong.
He says, "There are so many dancers who bad mouth all those shows, saying it's a joke, but I'm sorry, but how can it be? You're getting people interested who would never in their right mind come to see a dance show. The fact that you're exposing people to it is huge. Education is the biggest thing. I grew up in Fort Saskatchewan. Fort Saskatchewan is a tiny town. It's a hockey town, and that's OK. I was never friends with any of the hockey guys in school, but when I left and was in the papers all the time and travelling the world, I was getting all these e-mails from people wanting tickets."
The guy from Cats said pretty much the same thing – as an eyewitness to young hockey dudes lining up for their first exposure to musical theatre and digging Cats unironically. This sort of thing would've been practically unheard of 10 years ago.
On the flip side, So You Think You Can Dance? means more fame and more work for people who actually know they can dance. McKinlay – who's alternating the lead role in this production with Yukichi Hattori (who performs Thursday and Saturday; McKinlay performs Friday) – brings up the case of Sabrina Matthews, who worked with the Alberta Ballet before scoring a gig on So You Think You Can Dance Canada. She's one of the most sought-after choreographers in the world.
To the question of how to dance the life of Elton John (if you think it's hard to write about music, try dancing about architecture, to paraphrase Frank Zappa), McKinlay says that while the music and choreography in Love Lies Bleeding is always exactly the same, the true magic lies in the individual interpretation. People have observed that his and Hattori's version "could not be more opposite," McKinlay says. "It's all done through movement, and people say body language is sometimes louder than words. And I think that's a huge reason to why telling a story of a superstar through movement has been such a success, why people connect with the narrative so much. It reads so, so well."
Love Lies Bleeding, which ends Alberta Ballet's current season, plays Thursday through Saturday at 7:30 p.m. in the Jube. Click here for tickets.