LIT UP: WordCrawl to be a slam on the bus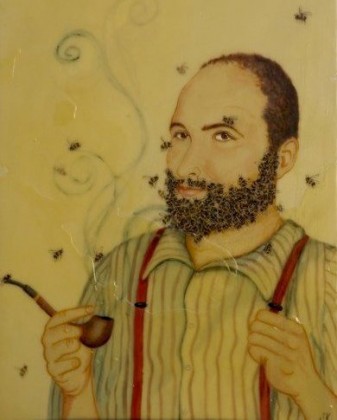 Edmonton literary fans will soon have the chance to participate in the city's first ever WordCrawl. Remember the Stroll of Poets from the '90s?
It's like that, except on a bus.
"It's the love child of an orgy between a literary reading, a poetry slam, a songwriting showcase, and a pub crawl. On speed!" explains organizer Jason Lee Norman (pictured, right).
Departure is Saturday, May 12 at 5 p.m. from Bohemia. All participants will board a yellow school bus – "single file … buddy system," says Norman – and proceed from there. There is a Literary Cage Match at Kasbar – three readers facing off against each other to see who is the funniest in town, according to three judges "who each look like American Idol judges." Next, Expressionz Cafe will feature rap music and slam poetry. Finally, the party will really get wild when alcohol is served – wine, specifically – at Audrey's Books for a session of storytellers and poets.
"We will all sit in a semi-circle and have a great time and clap politely," says Norman.
Norman says he wanted to do something with more energy and enthusiasm than typical reading.
He says, "I figured that something that combined artists with local businesses in a fun and interactive way would be a great thing for the city and something that they could really build on and make unique to Edmonton and the arts community here."
Words with Friends began with Norman and Kasia Gawlak, local poet and "social media Goddess," to bring local artists together on a regular basis to help build relationships within the scene. They welcome anyone with open arms – including anyone who even attended one of their events.
Turns out Norman is a writer, too, big surprise.
"My hopes and dreams are to be able to have more time to write," he says. "My first book of short fiction just came out this month and nothing has been more exciting than putting it together and trying to get the word out about it. I have more ideas for stories and novels and other projects but there are only so many hours in the day and Seinfeld reruns come on like 10 times a day if you have a decent cable package. What's a guy to do?"
Tickets to WordCrawl are $20. Click here for details.