Hayloft Acres a little patch of heaven for area musical farmer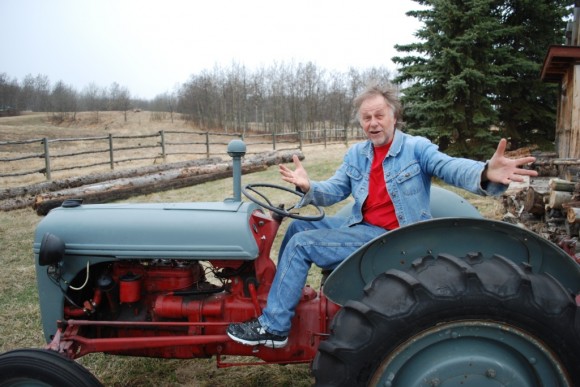 Well, said the Musical Farmer, thumbs in his armpits, it's plantin' time again, time again to sow the seeds of lifelong ambition and grow another healthy organic crop of positive musical vibes to reap a bountiful harvest of good gigs – and high time to take this farming metaphor behind the barn and kill it with an axe before it causes any more trouble.
Preparations are under way for the first event of the season at Hayloft Acres, a rustic music venue owned and operated by area musician Uwe Wodjak. His annual Springtime in Alberta festival happens Saturday from 1 p.m. on, featuring a bunch of rootsy bands in an all-day showcase presented on a fully functional outdoor stage and concert bowl the musical farmer built himself, with some help, on his musical farm not far from the middle of nowhere (10 minutes East of Sherwood Park, in truth).
The name "Hayloft Acres" may ring a bell for citizens of a certain age. One might remember gigs there before the place even existed. Or not remember, as the case may be. Maybe it was Shakers' Acres. What red-blooded Albertan of any generation hasn't attended a rock 'n' roll barn party and passed out face first in a cow flop? Good times.
Uwe had been running indoor shows in his barn for 15 years or so before switching three years ago to his new outdoor concert bowl – the "Prairie Rose Stage" – in what he hopes to establish as a rental venue. His own shows, for the moment, are much more folk fest than bush party.
"This is not a bush party," Wodjak insists, during a recent interview in his studio at his farm. He looks every part the farmer, strong coffee, grizzled talk to match, "I don't want a bunch of kids come in to destroy the place, throwing up, passing out in the field, throwing their empties everywhere. We're here to do music. This is a civilized party."
Licensed to sell alcohol, with Fat Frank's on site, the event hosts a rootsy bill including Marv Machura, Puremud, the HeartAcres, the Ruminators, Shane McLaren, and Wodjak's own band Tragic Treasures. Plus "tweeners" performing solo during change-overs, just like the folk fest.
That's exactly the sort of vibe Wodjak has been after all this time.
"It's just been a labour of love," he says. "It's a special place."
There are testimonials to back him up. Mark Scholz, TV personality and full-time musician, attended Springtime in Alberta 2010 and liked it so much he brought his band The Blue Montegos back in to record their album in Sept. 2011 – live off the floor of the outdoor stage, crickets and critters included.
"I fell in love with the stage and his land," Scholz says. "We knew that the rustic vibe, beautiful setting and Uwe's support would create the best possible sound and experience."
Key word: Rustic.
"It's a laid back hippie happening," says Marv Machura, who's helping out with the gig. He adds, "It's a day in the country, there's great live music in a rustic setting, and it's just on the doorstep of Edmonton … I want to see it successful. He's been working at this so hard. I'd love to make money at this, too, but that's not the motivation to keep doing it."
Hurtin' Song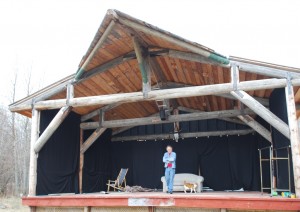 Born in Germany, moved with his family to Edmonton in 1963, Wodjak bought his farm during the mid-'70s to raise a family in a more peaceful setting than could be found in the big city. Also, horses. In the '80s, he got into real estate, made a fortune, he says, and "lost it all," got divorced, got into photography, got into music. It was in fact the break-up of his marriage that started his interest in music.
"When we split," Wodjak recalls, "I decided to write this great song that would win her back. I think it was called W5: Who? What? Where? When? Why? Simple as that. That was the first song I wrote."
It didn't work, he adds, "but we're friends today."
Wodjak currently lives alone on his 40-acre spread of forest, stream and pasture, "scratching out a living," with handyman work and other odd jobs, busking on Whyte Avenue on occasion, not so much anymore, and working hard to realize his dream of turning Hayloft Acres into Edmonton's folk music getaway. He's done almost everything himself. The entire place, inside and out, looks homemade, sturdy. The only phone is an old-fashioned dial unit – the musical farmer eschewing cellphones if not Facebook – all heated by a wood stove. Echoing the complaints of any struggling bar owner, he says it's getting harder than ever to make a go of it, what with regulations, licenses, and the ever-present dilemma of selling alcohol at an event you have to drive 20 minutes through the countryside to get to. Overnight camping must be pre-arranged, he adds.
He says, "It's all made up here. We make it up as we go. There is no plan. The plan is to get a show done and do the best we can. If you got no money, if you got no backer, if you got fuck all going on, it's hard to put a show together. Just because you have a great space and a great sound system doesn't guarantee that anybody will come or care – so it comes down to: what do you sell?"
You sell the bands, of course – which leads us to the dark cloud over this particular patch of heaven. All the other suppliers will be paid at Springtime in Alberta 2012, but not the bands. His defense is that it's a "showcase" and an "opportunity" and that he has rarely turned a profit on these gigs. The promoter is always the last to be paid, that is, if there's anything left after the expenses for sound system, security, port-a-potties and on and on.
"I can't pay 10 bands. How can I pay 10 bands?" Wodjak says. "They're all bands that just want to play. I would love to pay these guys, but I just can't."
People are going to call bullshit on this musical farmer, arguing that musicians have expenses to meet, too, and that without the musicians, there'd be no gig and therefore no money for anyone. You could further argue that musicians willing to work for free is a  problem. A lot of musicians simply won't do it. (Hayloft Acres bands used to be paid when the gigs were held in the indoor space, now a private rehearsal and recording studio; and even Mike McDonald – an outspoken proponent of bands getting fairly paid – said his Hayloft Acres experience was "cool," and the audience "great … we were treated very well," he adds.)
Wodjak counters that "venues need just as much help as musicians," and that he doesn't expect to make a profit on Springtime in Alberta 2012, either. It's as much a showcase for the venue as it is for the bands. Outside promoters needing a unique and fully-equipped outdoor space are the ticket to success here.
Overriding the profit motive, Wodjak says, is a love of live music. He does this for fun, because he wants to, always has, always will, and he hopes the musicians will come along with him for the same reasons. Because there are more important things than money. Right?
"I worked my fingers to the bone – and still ended up with nothing," he says. "You can have all the money in the world and it doesn't mean fuck all, because you can lose it all just like that."
There's a touch of bitterness in what he says, but it was a cold and cruddy day when we met for the interview. Everything is green now. Springtime in Alberta beckons. Time to till the soil of … urk …