WEEKEND MUSIC PREVIEW: The Black Keys a superduo highlight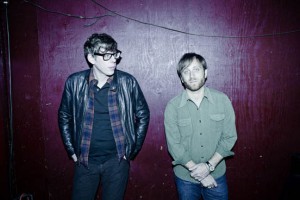 The highlight of this star-studded weekend of live music is undoubtedly the Black Keys, performing at Rexall Place Saturday night. With three well-deserved Grammy awards and counting, the Akron, Ohio duo has taken the world by storm with its low-fi garage-rock stylings. The same could be said for the opening act, Arctic Monkeys, from the UK. Until then, Friday's big gig is Van Halen, with David Lee Roth back on lead vocals again, at Rexall – with Kool and the Gang opening. And don't forget Ron Sexsmith performing at the Royal Alberta Museum Theatre that same night. If you did, too late. The show is sold out.
Friday
Motives – Avenue Theatre hosts a lengthy evening of metal, featuring this Saskatoon band. Also on the bill are Where the Heart Is, Maintain Status Quo, Distant Calm, Cultured By Fire, and People Call it Home. 6 pm, $10.
Ron Sexsmith – The intimate and gorgeous-sounding Royal Alberta Museum Theatre features this Toronto folk singer who started his own band when he was just fourteen. That was a while ago. A long while. Jeff Stuart & the Hearts and Pete Murray also perform. 7 pm, SOLD OUT.
Souljah Fyah – The temperature's warmed up significantly over the last couple of weeks, and what better way to celebrate than with reggae music. Even better yet, it's a fundraiser for Young Nurses Take Action In Uganda. Artery, 7:30 pm, $20.
Van Halen – Fourteen years after the band's last album in 1998 – "Van Halen III" – this legendary band released their newest album "A Different Kind Of Truth" in February of this year. They're winding their way across North America supporting the album (and hopefully playing a lot of their classics) with David Lee Roth back at the helm. The band's history continues to read like an improbable soap opera; the most recent member tossed aside was bassist Michael Anthony in 2006 in favor of Eddie's own son Wolfgang (with additional controversy over replacing Anthony in some old album photos on the website, which were quickly taken down), and after a lengthy back-and-forth whether David Lee Roth would take over again from Sammy Hagar. He did. In fact, Hagar and Anthony toured together as "The Other Half" shortly afterwards. These guys are seriously messed up, but they definitely know how to rock. Kool and the Gang open. Rexall Place, 7:30, $35 and up. Buy here.
Cannon Bros – This Winnipeg power pop duo will headline the Wunderbar, with Fire Next Time and Cliffs also on the bill. 9 pm.
Saturday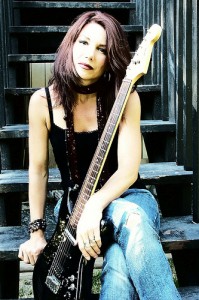 Lee Aaron and Harleqeuin – Canada's hardest rocking female of the '80s and '90s (right) had several hits at the time, including "Metal Queen" and "Whatcha Do To My Body." Since a best-of compilation in 1992, she's moved to a different label for every subsequent album, her most recent being "Beautiful Things" in 2004. Harlequin, meanwhile, was founded in Winnipeg back in 1975, and is probably best known for their songs "Innocence" and "Superstitious Feeling." Their last album was 1985's eponymous album, until 2007's "Waking the Jester," which if nothing else, is an awesome album title. Century Casino, 7 pm, $34.95.
Black Keys (top picture) – This Ohio duo has been performing for over a decade now, but it's only in the last couple of years their notoriety has shot through the stratosphere. They've got three Grammy Awards to their name now, and their last two albums – "Brothers" and "El Camino" both peaked in the top three in the United States, and in the top four here in Canada. And if you've never seen them live – well, they're even more amazing than on whatever recorded material you listen to. The Arctic Monkeys open; their last album "Suck It And See" reached No. 1 in their home turf of the UK – like all of its predecessors – and No. 12 in Canada. They've had a couple of well-deserved Grammy nominations as well, and won a total of 5 Brit Awards.  Rexall Place, 8 pm, $45 and up. Buy here.
Reverend Horton Heat – Wasn't it just last week we were saying this city doesn't get enough rockabilly acts? Well, here you go – from Texas. You're welcome. The Real McKenzies open. Starlite Room, 8 pm, $25.
Blue Goat – This weekend's release party is hosted by these local prog-rockers for their new EP. Apparently their live shows may also include props, costumes, video and puppetry. Dead Cat Bounce also performs. Artery, 8 pm, $10.