CONCERT REVIEW: Van Halen a strange brew at Rexall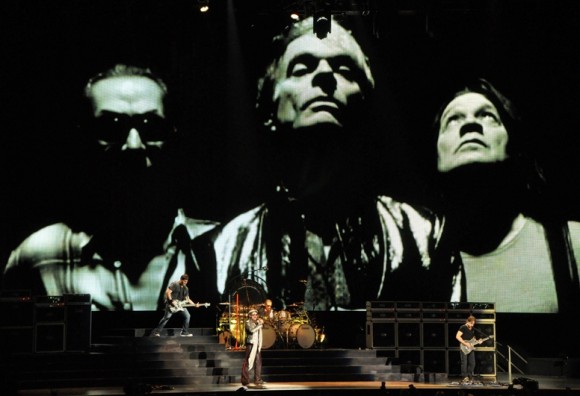 The jump kicks may be no more, but that doesn't prevent David Lee Roth from executing some impressive moves for a man his age. Flamboyantly sparkly, all smiles, he shimmies and slides across the stage with the Van Halens rocking out behind him – guitarist Eddie, Alex on drums and Eddie's son Wolfgang on bass.
Their performance Friday night at Rexall Place didn't quite blow the roof off the house, but the band brought forth a loud, solid stream of hits from the glory years, from Dance The Night Away to Jump, songs that went over like magic.
There wasn't a lot to Van Halen's stage show. The reunited band opted for a minimalist approach: a gigantic stage backed by walls of signature amps, dwarfed by a huge video screen showing a mix of live and pre-recorded footage in crisp black-and-white. Instant slow-motion replays of Roth's more intricate dance moves made certain no one missed a thing.
The band's popular cover versions of Roy Orbison's "(Oh) Pretty Woman" and The Kinks' "You Really Got Me" sandwiched a drum solo, played with the aid of backing tracks. The night wouldn't be complete without an over-the-top guitar wank. Eddie delivered, spending a good ten minutes tapping away and wailing on his whammy bar, to the cheers and delight of the audience. A thousand iPhones recorded the epic solo for posterity.
Roth enjoyed his own moment alone under the spotlight as well: filmed footage of a dog in a field played as Roth emerged with an acoustic guitar. The singer picked absently as he launched into a detailed anecdote about his beloved pet dogs and his favourite hobby, competitive sheep and cattle herding. It was a cute story, and a perfect lead-in to "Ice Cream Man," from the band's debut.
Despite the highlights, there were some questionable moments. Roth had an annoying habit of yammering into the mic during some of Eddie's guitar solos. He just generally seemed a bit off: skipping lines in certain songs and at one point forgetting the words entirely. It's bound to happen sometimes, but unfortunate considering that he's surrounded on all sides by Van Halens who knew exactly what they were doing.
Soul and funk group Kool and the Gang was an odd choice for opener, but turned out to win over the audience with its amazing arsenal of hits. With choreographed dance routines and an insane horn section, the band managed to get everyone singing along to tunes like "Too Hot," "Celebration" and grooving to "Jungle Boogie." Who knew?
In the end, Van Halen unleashed a bit of a Canadian tribute: cannons stuffed with red and white confetti exploded onto the crowd, as Roth paced the stage back and forth in a fur hat waving a checkered flag and yelling "It's cold outside!"
What a strange brew.