My Darkest Days to rock against breast cancer on Nickelback tour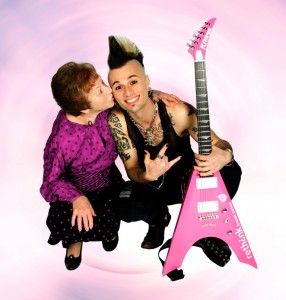 "If there were no boobs, we wouldn't have music videos," declares Sal Costa, lead guitarist for My Darkest Days, which opens for Nickelback at Rexall Place Tuesday night.
It sounds so crass. Yet it is absolutely true – if you're making the kind of music videos that My Darkest Days (and also Nickelback) seem to be fond of making. Strippers and porn stars cavort, writhe, play strip poker and rub oil on each other throughout the videotic rendering of the band's rambunctious electro-rockin' single Casual Sex, below (scroll down to see it; you know you want to).
But before the feminist lurking inside each and every one of us cries "sexism" on this Toronto fivesome, we must look at their hidden agenda. They're actually raising money and awareness to fight breast cancer, not that it has anything to do with music videos per se, but there is a connection here. The band's "Boobie Campaign," in support of Rethink Breast Cancer, includes the use of a Kramer pink flying V guitar that Costa will play every night of the Nickelback tour. At the end, all the bands, also including Seether and Bush, plus Nickelback, will sign the guitar, which will be auctioned off, all proceeds given to Rethink Breast Cancer.
So now it's all OK, then, right?
Costa sees no sexism here, and says he feels a special connection with women, having grown up in a house full of females – and specifically women who work in the pornography or exotic dance trade. The long standing kinship between rock musicians and strippers is well documented. They both perform in bars, they both work the same hours, they both use their bodies, their lifestyles are similar, they even pair up from time to time. To that end, Costa and his bandmates have no qualms about celebrating the female form in their music videos. They cavort among friends.
"We never meant to womanize them. It was more to glorify them if anything," he says. "The women in our videos, that's their job, They're proud to do their job, just like we are. For us, we just love women. If those girls had a disease like breast cancer they wouldn't be able to do what they love to do. It would be like me not having hands to be able to play guitar. That's a tool that I use to do the job I love. Those girls have good bodies. And that's their career and they love to do it. It's really no different. People see them in the videos and automatically assume we're degrading women, but it's not. We have a strong connection to those type of people, and all the other bands we tour with do as well."
It's hard to find someone who hasn't been affected by cancer – and Costa is no exception. His uncle died of cancer, and his grandmother is a breast cancer survivor.
"It's kind of crazy, but I know there's a cure out there," he says. "And if there's enough people who come together to raise enough money to employ people to discover through science a cure, it will change a lot of lives. The effect of watching my uncle die was horrifying. I wish it never happened. And I don't want to see anyone else go through that agony. If we're at that point in our career where we can use some clout to help the cause at hand, we will."
Seats still available for Nickelback, with Seether, Bush and My Darkest Days, at Rexall Tuesday night starting at 6 p.m. Click here to buy tickets.