NICKELBACK TIMELINE: A special connection to Edmonton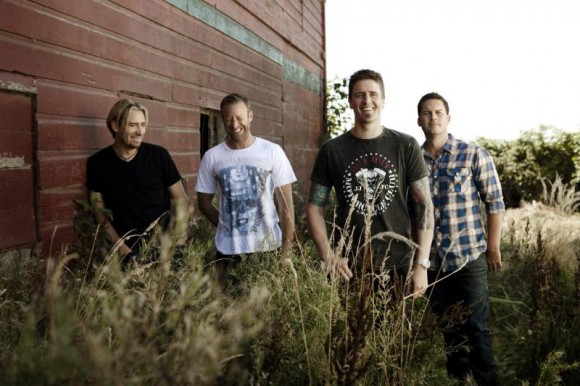 If you want to know where you're going, you have to know where you've been – and if you're going to Nickelback on Tuesday night, chances are you've been to a bush party.
Of course there was rock. There were rock songs about rocking or about rocking at a bush party where you're listening to rock songs about rocking. Maybe there was a fire. There will be fire at the Nickelback show. These guys love blowing off large clouds of hot gas. And you can't have a bush party without booze. Don't worry. Alcohol will be served at Rexall Place. And "other things?" There will be other things at the Nickelback concert, judging from the smell of past Nickelback concerts in the area. Don't waste it all on the like-minded opening acts, Bush, Seether and My Darkest Days. Buy your tickets here.
There's a hint of backlash building around this popular rock band, which might not be fair considering Nickelback has sold more than 50 million albums and scored dozens of No. 1 hits, more from its latest album, Here and Now. They weren't always this big – but the band always did have a special connection to Edmonton.
Circa 1995-1999 or thereabouts
News of this hot new Hanna, Alberta-based rock quartet (since moved to Vancouver) comes to area media in the form of a letter with a nickel taped to it. Caption: "Here is your nickel back." Nickel is removed, letter goes on the pile, where (much) later, it is recycled. Demo CD is perused. "Sounds like Creed," is the verdict. Demo goes on the pile. Band opens for Grapes of Wrath at the Grant MacEwan cafeteria, a gig described by observers as "crazy," and for the Headstones at NAIT arena. Nickelback's fee for the gig: $500.
2000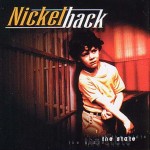 Band plays a sold-out show at the Rev, now known as the Starlite Room, for 600 people, tops. By now, Nickelback's debut CD The State is halfway to gold – a whopping 25,000 copies sold. In interviews, frontman Chad Kroeger talks about "impressions" and "target market" and declares how much he loves the BUSINESS side of the music business. Don't hear that every day. He also claims to know exactly how to "break" a band. Sure, good luck with that, pal.
Smalls Supporter
In early 2000, Kroeger is doing radio tracking – basically the show biz version of telephone soliciting – for his own band, along with one of Edmonton's finest underground bands, the Smalls. He says in an interview, "I really want to be responsible for bringing commercial success to Corby and all the boys. They are one of the largest underground bands in all of Canada and they deserve it. They can pack clubs just about anywhere in Canada, but they can't get played on the radio. It blows my mind. No record company knows how to market them. They said the same thing about Dave Matthews. So we did an edit of My Dear Little Angle and it's going to go out in the next month or so. We'll see."
2001
Nickelback breaks. The band's mainstage set at the Stage 13 outdoor festival is the band's last non-headlining gig in Alberta.
2002
The backlash begins. Matt Good makes some snide comment to a magazine to the effect that all these damned bands like Nickelback sounds the same, and Kroeger loses his cool in a Rolling Stone interview. He had to explain to the interviewer who Matt Good is: "A Canadian artist who sells hundreds of thousands of records in Canada, but couldn't sell shit in America, and since his fellow Canadian band went down to America and worked their asses off and did sell records, he thought it'd be OK to take some cheap shots at us. It's pathetic. Once you come to America and sell a million records in two months, suddenly you're a bad guy, a Creed rip-off." He went as far as to threaten fisticuffs, but that never came to pass. Nickelback sells out Skyreach Centre, now known as Rexall Place, in record time.
Backlash Gets Serious
Booked at a heavy metal festival in Portugal, Nickelback is pelted with bottles and rocks. Kroeger said they were offered $150,000 for one set and were already in the area, so it was a no-brainer. After the opening, the singer said, "Are there any Nickelback fans in Portugal?" and upon hearing a less-than enthusiastic response, added, "Are you sure? It's up to you. Do you want to hear some rock 'n' roll or do you want to go home?" Whereupon what appeared to be a rock hit him in the head. The band stopped playing, flipped the audience middle fingers and walked off. Kroeger, who was unhurt, says in a later interview, "The concert was held near a rock quarry, so they had lots of ammunition. That's the last time we ever play a metal festival."
2004
Original drummer Ryan Vikedal – who played with the Corb Lund Band, and there's our Smalls connection – is fired for unknown reasons, replaced by Daniel Adair, formerly of Three Doors Down. Vikedal is given the news after the Christmas holidays, and says he felt "betrayed." Legal ugliness ensues.
2005
Band releases a new album, goes on a big tour, blows up a lot of stuff at Rexall Place. Mike Bell, music critic from the Calgary Sun (now at the Calgary Herald), is banned from reviewing or interviewing Nickelback because of all his negative articles.
2006
Bell writes a gleeful column about Kroeger's DUI charge.
2007
Band releases new album, goes on a big tour, blows up a lot of stuff at Rexall Place.
2009
See 2007, above. Kroeger tells the sell-out crowd, "Everybody in the world definitely knows that Edmonton has claimed us!"
2010
See above.
2012
See above.