WEEKEND MUSIC PREVIEW: Raygun Cowboys are psycho, billy
Posted on May 17, 2012 By Michael Senchuk Music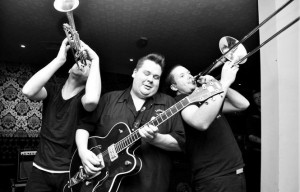 With the incredible run of big-name acts Edmonton has hosted over the last week – Van Halen, Black Keys, Nickelback – and with the toast of the blogosphere Bon Iver in town on Monday, this weekend is a little more subdued. The only name most will recognize is Black Dahlia Murder – most metal fans, that is.
Friday
Black Dahlia Murder – This Michigan heavy metal band derived its name from the infamous unsolved murder of Californian Elizabeth Short in the 1940s. The quartet has a total of five albums, including last summer's "Ritual," which peaked at  No. 31 on the Billboard Top 200, the band's best showing to date. Exhumed also performs. Starlite Room, 6 pm, $20.
Poor Young Things – This Thunder Bay rock group headlines a fundraiser for the WIN House, along with Go For the Eyes and JP Hoe. Haven Social Club, 7 pm, $12.
Reuben Bullock – This folk artist from Calgary is headlining Edmonton's newest venue, the Elevation Room at Transcend Coffee. Also performing is Edmonton Music Award nominee 100 Mile House, plus The Mountaineer. 8 pm, $10.
West of Hell – Metal fans will have plenty of options this night, with this Vancouver band performing over at the New City Compound. Other bands on the bill include Order Of Chaos – which recently won Metal Album of the Year at the Edmonton Music Awards – and Mortillery. 8 pm, $15.
J.K. & the Relays – These ska-soulsters headline the veritable Pawn Shop, with other performances from The Hangers and King Muskafa. 8 pm, $15.
Saturday
Robin Woywitka – Edmonton's own archaeologist-singer-songwriter headlines the Haven Social Club; Trevor Tchir also performs. 8 pm, $10.
Raygun Cowboys – Last weekend we had rockabilly; this weekend we have psychobilly – important distinction – with this local band, which is kicking off a tour that travels through BC as well as some of the Western United States. Preying Saints and Snakebite also perform. New City Compound, 8 pm, $10.
Sunday
The Noumenon – What's that? You want more metal? Good, the Pawn Shop wants to give it to you. Exit Strategy and The Lucifer Project also perform. 8 pm, $10.