WHAT'S SO FUNNY: Mike Dambra's sperm cures cancer
Mike Dambra has become famous for, nay, almost dependent upon, a joke so politically incorrect it can cause even insensitive boors to swoon in shock – a routine about retards.
That's right: Retards. Being from New York is his excuse for using the word "retard" instead of "special needs" or some such – he uses the word "homo," too – but the Edmonton-based comic has a deeper agenda. At the Laugh Shop Friday and Saturday, Dambra is expected to pull out the popular "Pickle Bit." The routine was born when a female heckler objected to his using the word "retard" in an otherwise unrelated joke many years ago. Apparently she got so mad she flipped a table over. As is the case with almost every comedian's personal experience, Dambra got to work, searching for the humour. Voila! The Pickle Bit.
Monologue sample: "For all you uptight people who think you're the kings of the retarded people, take a retarded guy aside and ask him what he wants to be called. Hey, Billy, what do you want to be called? 'Uh, Pickle? (retarded guy noise)' When I was younger, I always thought Special Ed was the name of one retarded guy. 'Hi, my name is Special Ed, and this here's my buddy Pickle …'"
Woe betide the hapless heckler who tangles with this guy. Dambra is always looking for some talkative audience member to actually play the part of Pickle for the duration of his act – it's part of the thing. Interruptions are often greeted with lines like, "I don't show up at the Special Olympics and trip you when you're running, do I?"
Dambra explained in an interview last November, "It's not just me saying retarded so I could say retarded. The point is that they're people, too. The people who really like to pound on me about it say, 'They're like everybody else! They're just people!' Well, if they are, then they get to get picked on like everybody else. If you're going to treat them like everyone else, then do that. Don't put them over in a corner."
Trying to get away from the Pickle Bit won't be easy for Dambra – ask any comic famous for even shorter spiels (dyno-mite!) – but he has some new material drawn from a particularly amazing personal experience. Dambra's wife Melanie was in the terminal stages of cancer a few years ago, but got pregnant and the baby's immune system somehow cleared out the cancer. Mother and child are perfectly healthy now, Dambra reports. (Attention cancer researchers: Please look into this.)
And the joke he got out of it?
"My sperm cures cancer, so if anyone's interested …"
Up to speed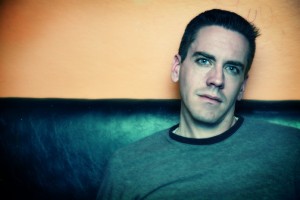 Of what seems to be an interchangeable parade of American comics coming into the Comic Strip on a weekly basis, Jesse Joyce stands out for more than just being a fast talker who looks like "a coked-up Dr. House," as he puts it. The New Yorker – and we have a theme for the week – has some sharp observations to go with his speedy wordplay. Stupid sayings is a favourite target.
Sample: If anyone ever says to you, "'Everything happens for a reason,' punch them in the throat immediately –  and when they're reeling around going 'accchk,' just say, 'you might not understand why I did that right now – but everything happens for a reason.'"
In addition to being on Leno – seems to be a prerequisite for a gig at the Comic Strip – Joyce also played a comedian in a movie, Stags, described as a Jewish "Swingers." No one saw it, but hey, a movie's a movie. He is also a regular commentator on the Fox news network in the U.S., but we won't hold that against him – as long as Ezra Levant promises never to try stand-up comedy.
Joyce performs nightly through Sunday. Click here for tickets.
Funny place expanding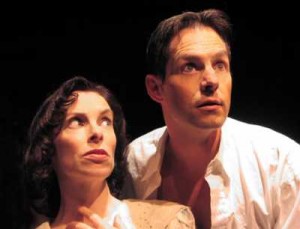 There's always something funny going on at the mighty Varscona Theatre – whether it be Rapid Fire Theatre's award-winning improv shows Fridays and Saturdays at 11 p.m., Die Nasty's live improvised (also award-winning) soap opera every Monday, or the talk-variety show Oh Susanna the last Saturday of every month starring (the award-winning) Mark Meer in drag. The plays they put on are mostly comedies – even Shakespeare.
Perhaps less funny than usual, but far more prestigious and important for the future of funny stuff will be this Saturday night's Varscona Crystal Ball: Raising the Roof. Hosted by Davina Stewart and Jeff Haslam (pictured), it features a who's who of Varscona's finest thespians, singers and cut-ups performing on stage – with a special guest appearance from the Mayor of Edmonton himself. No word on whether he has any new material to try out. His arena bit just KILLS.
Tickets to this event are $85, which includes free food, live entertainment and a tax receipt, as it's a fund-raiser for the Varscona's upcoming renovations project.
Click here for details.