WIN: Tickets to Apocalyptica!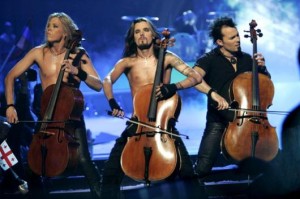 Fans of the fusion between classical music and rock 'n' roll – and you know who you are – won't want to miss the return of Apocalyptica at the Edmonton Event Centre on Thursday, May 24. Tickets are on sale at Ticketmaster, or you can win a pair simply by emailing your full name to GigCity. Click here to enter.
Pretty much the best heavy metal cello quartet from Finland (actually three cellos and a drummer), Apocalyptica used to be a Metallica tribute band, but has since branched out to covering other heavy metal bands and even into its original brand of classical rock music, not to be confused with "classic rock." They're touring North America behind their latest album, 7th Symphony.