WEEKEND MUSIC PREVIEW: How come? By Royal Canoe
Posted on May 24, 2012 By Michael Senchuk Music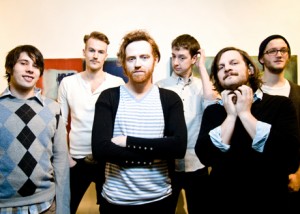 While many local music fans are anxiously await a performance of "The Wall" by Roger Waters at Rexall Place Monday and Tuesday nights, there are plenty of great options for the weekend, including some exceptional Canadian acts, like the eclectic Adaline on Friday night, and Winnipeg's Royal Canoe on Saturday (right). There's also some stellar local talent headlining a few venues, such as Heaviside, Alex Vissia and Zerbin.
Friday
Tommy Roe – This Atlanta-born pop artist has a total of three No. 1 songs in Canada, and another three that made it into the top 5. Yeah, okay, the last of those was in 1970, but still – who's not up for some bubblegum pop, right? Century Casino, 7 pm, $39.95.
Jordan Norman – This local singer-songwriter tops the bill at the Elevation Room, along with some other local favorites, Collective West and Bryan Coffey. 8 pm, $10.
Adaline – This indie darling from Toronto adds layers of urban and electronic sounds to her unique pop sensibility, but still rocks hard enough she'll also remind you of Shirley Manson from Garbage. Some have called it "electo pop-noir," but whatever you want to call it, it's damned good. She's currently touring Canada supporting her most recent album released in November 2011, "Modern Romantics," Haven Social Club, 8 pm, $10.
Heaviside – These hard rockers from right here in Edmonton headline an evening of all-local talent, which will also feature Apresnos, The Frank, and Cloud Seekers. Pawn Shop, 8 pm, $10.
Saturday
Royal Canoe – These folk-popsters play the last date of their current tour at the Pawn Shop before heading home to Winnipeg. Calgary's extraordinary Samantha Savage Smith also performs, as does Borys. 6 pm, $10.
Alex Vissia – The Elevation Room is packed with talent this weekend, as this local songstress headlines its Saturday show, with Souvs and Ian Waddell openig. 8 pm, $10.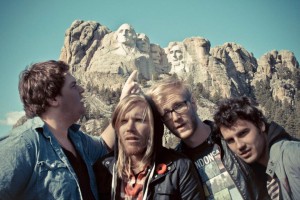 Zerbin (right) – Two-time winners at this year's Edmonton Music Awards (Music Video of the Year and Single of the Year), these local indie heroes headline the venerable Starlite Room. Tanner Gordon and the Unfortunates, and White Lightning also perform. 9 pm, $10.
Monday and Tuesday
Roger Waters presents The Wall – A lot of local music fans have been waiting a long time for this show, featuring the co-founder of Pink Floyd, and wrote, sang lead vocals, performed bass and rhythm guitars during the band's heyday. This show will feature a complete performance of Floyd's iconic 1979 album, which has had a lasting and life-changing influence on just about every musician or fan who's heard it. Waters has told a number of media outlets that this will likely be his last tour. Mind-bogglingly, some tickets still remain. Rexall Place, 8 pm, $45 and up.