CONCERT REVIEW: Roger Waters brilliantly reinvents The Wall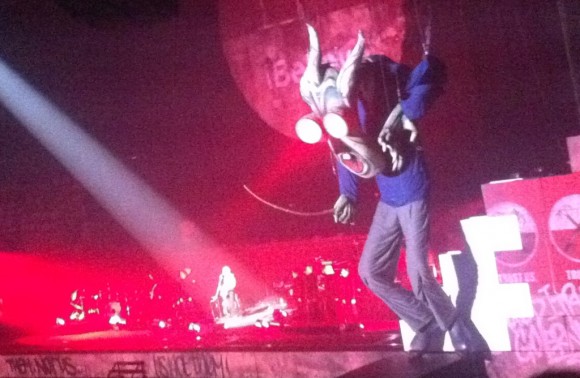 It's quite obvious that Roger Waters was the smart one in Pink Floyd. The others may have been talented folks, but Waters was, and still is, the deep thinker. When the other version of Pink Floyd appeared in Edmonton several years ago, they had the bigger show in the bigger stadium. And it was all very cool. But compared to The Wall Live at Rexall on Monday night, it was all just flash and no substance.
What Waters and his crew accomplished was nothing less than extraordinary. He took the rock concert to a completely new level. On the surface, The Wall was highly entertaining rock concert of incredible proportions. The back-up band was flawless without feeling automated. The three guitarists – Snowy White, G.E. Smith, and Dave Kilminster – were particularly outstanding, capturing the signature Floyd solos with such panache that one really didn't miss David Gilmour. There were also countless lights, explosions, crashing airplanes, floating pigs, giant puppets, insane videos (some of them the original Gerald Scarfe animations from 1980s shows) and roadies building a 40 foot wall that separated the audience from the band halfway in the show. It was stunning that the band played behind this wall for almost two whole songs without any visual stimulation and the audience was still spellbound.
Waters himself was a commanding presence, at the top of his game in his trademark black shirt and slacks, even though his recording career peaked over 30 years ago. It's amazing to realize the guy's almost 70 years old.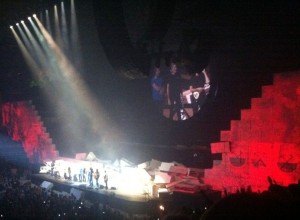 But underneath all that rock extravagance was a powerful piece of subversive, political theatre. Using poignant videos, artistic images, simple black and white photos of war victims, and quotes from the likes of George Orwell and Dwight D. Eisenhower (along with all the other rock concert stuff), Waters managed to turn his magnum opus about one rock star's alienation into a commentary about our own alienation. In the new interpretation of The Wall, we're the ones who've built the walls around ourselves, not Pink. Mother isn't just Pink's mom, she's a symbol for any authority figure that claims to protect us but is actually harmful. It's not just Pink that's Comfortably Numb due to overuse of drugs, we're Comfortably Numb due to our overconsumption of technology, TV and other media. And in the end, we're the ones who are on trial, because our withdrawal from participating and caring about world has led to war, hunger and the death of millions of soldiers and civilians.
The Wall Live was anti-war, anti-greed, anti-organized religion, anti-authoritarian, anti-corporate art piece hidden in a classic rock concert. It was especially poignant given the fact that it was Memorial Day in the US and that students are still protesting and being arrested in Quebec. Talk about "We don't need no education, we don't need your thought control."
If you were at the show Monday, you probably won't experience a better show in your lifetime, even if you were too stoned to get all the hidden meanings behind The Wall. If you're heading out for the second show Tuesday, open your eyes a little wider because you're about to have a breathtaking experience that might even touch your heart.