FOLK FEST 2012: Bonnie Raitt, Dr. John, Emmylou and more – expect another sell out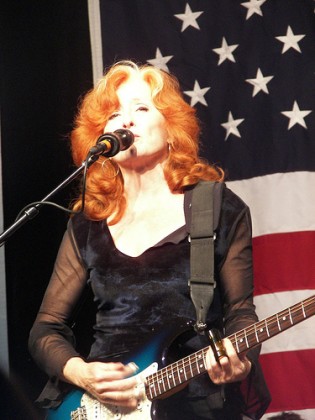 The best things in life aren't available online – like the first tickets to the Edmonton Folk Music Festival.
Last year sold out in two hours, leaving hundreds of disappointed fans. So to make it fair, this year – featuring Bonnie Raitt, Emmylou Harris, Dr. John, Arrested Development, Corb Lund and many, many more – the event is taking a step back in time, back to the days where you had to camp out to get tickets to the hottest events.
Important disclaimer: Do not camp out.
Here's the deal: Tickets go on sale Friday, June 1. Half of the weekend passes and single day tickets will only be available in person starting at 9 a.m., and only at the folk fest office, 10115 97A Avenue. The line-up starts no earlier than 7 a.m. The other half of the tickets will go on sale through Ticketmaster at 10 a.m. This will be the last year seniors get a free pass; kids 11 and under are still free.
Clear? Good. And good luck.
Wednesday's annual folk fest press conference is always the symbolic starter pistol for festival summer in Edmonton. Producer Terry Wickham was good enough to give rapid-fire blurbs for each and every one of the acts performing this year. There's bound to be something below that strikes your fancy.
Main Stage
Bonnie Raitt (Sunday, Aug. 12): Terry says they had the chance to bring her in before she won all those Grammys – for $5,000 plus flights, but the producer balked at the flights, so that was that. This year, Raitt is the closing act. On sealing the deal, Terry says, "We knew we were close we when they started asking, 'who else is coming?' And we said, Mavis Staples, Dr. John, Treme, Johnny Clegg, Ladysmith Black Mambazo, Joe Henry." Done deal. "If there's a poster-woman for the folk fest, it would have to be Bonnie Raitt."
Mavis Staples (Sunday): "Classic. She's done some of the best work in her career in the last few years. She's been working with Jeff Tweedy from Wilco.
Emmanuel Jal (Sunday): "Great story, pure and simple," says Terry, telling the saga of this Sudanese hip hop artist, who was forced into the rebel army at the age of seven, escaped while others were killed, was rescued by an aid worker, and eventually went onto become a world-renowned artist and activist for children in a war zones.
Jim Cuddy Band (Sunday afternoon): Second folk fest appearance from the Blue Rodeo co-frontman and his solo band. "Blue Rodeo was instrumental in building our audience," Terry says.
Arrested Development (Saturday, Aug. 11): "They were huge in 2007 and we wanted to bring them back."
James Vincent McMorrow (Saturday): "Probably my favourite signing this year – next to Bonnie Raitt. I have to say that when I first put him on, I thought, 'hmm, kind of sings a little too high pitched for me, not so sure about that,' but the more I listened, the more I liked it. He's a pretty big star in the UK and Ireland … I don't think he's going to overwhelm the audience like Bonnie Raitt, but I think he's going to make a name for himself."
Mary Chapin Carpenter (Saturday): "She used to play Rexall Place, very popular, really good."
Ricky Skaggs (Saturday): "He's just brilliant – and he always brings a great band."
La Bottine Souriante (Saturday afternoon): "As good as they come in Celtic music. They have a new singer, but they've found their groove."
Barr Brothers (Friday, Aug. 10): "Really good. A decision made after a bottle and a half of wine one night – and a good decision it will be."
Emmylou Harris (Friday): "What can you say?" That was the question, but we'll just move on …
Arlo Guthrie and Guthrie Family Reunion (Friday): "Here's a picture: think about a 17 year Dubliner with long hair, just got out of high school and going to see Alice's Restaurant, see people driving around in the sunshine and Volkswagon vans – and now I can't actually believe I'm bringing in people like that."
Amadou & Mariam (Thursday, Aug. 9): "As good as they come."
Corb Lund (Thursday): "We're recognizing his success by putting him on the main stage."
Trampled by Turtles (Thursday): "They're going to be hot, they're going to win over a lot of fans. It's a really high energy mixture of newgrass and bluegrass."
David Wax Museum (Thursday): "Sometimes a folk fest has to take chances, but these guys are going to make a name for themselves … I love the way they interact with the audience. Very special."
Sessions acts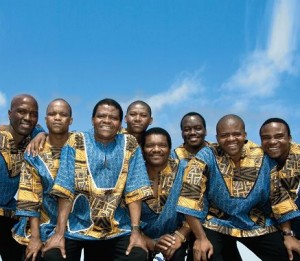 Dr. John: The King of Big Easy Piano is here for Treme, a musical tribute to hurricane-ravaged New Orleans, with guests including Cyril Neville – "the real thing," says Terry.
Ladysmith Black Mambazo: "I've been trying to get them for years. It's the 25th anniversary of Graceland, not that it has anything to do with the show, but it's a nice coincidence."
The Johnny Clegg Band: Just recently here, "But I have a saying, if the best at what they do are available, bring them."
Rodney Crowell: "Is there a better songwriter currently in North America?" Rhetorical question.
Joe Henry: "I think he's brilliant, in his own music as well as working as a producer, including with Bonnie Raitt."
Parachute Club: "We like a little bit of nostalgia."
Kiran Ahluwalia: "Traditional East Indian, really, really good; very interesting."
Bahamas: "My kids are more familiar with their music, but I quite like them."
Kim Beggs and TNile: "A lot of depth."
Geoff Berner: "Quirky, a lot of fun, kids like him."
Rory Block: "I don't think there's a better woman in acoustic blues."
Blue Highway: "One of the top bands in bluegrass."
David Bromberg: "He can do everything, blues, Celtic and everything in between, very versatile."
Calypso Rose: "I think she's special. People from the Caribbean community will be very excited."
Scott Cook: "Wanted to book him last year, saw him at the Full Moon Folk Club, and loved his song about North Country Fair."
Rose Cousins: "Really good. I saw her at the Haven (Social Club); she asked the crowd what musical event sums up Edmonton, and everyone said 'folk fest!' Of course, it was a singer-songwriter crowd …"
Dry Bones: "It's a little supergroup" (featuring Leonard Podolak, J.D. Edwards and Nathan Rogers) – "a lot of history in that band."
The Dunwells: "I suppose everyone's trying to be the new Mumford and Sons, but they're good."
Steve Forbert: "I love Steve Forbert."
Lennie Gallant: "One of the touchstones of Canadian singer-songwriters."
Hills to Hollers: "I love the parts of the band" (bluegrass singer Laurie Lewis and folk fest soul favourite Linda Tillery) – "so I can only imagine they'll be great."
Andrea House: "I remember listening to CKUA and her song came on and I stopped the car to hear her. She literally stopped me in my tracks."
Martyn Joseph: "He's a favorite of our audiences; he hosts a session so well."
George Kahumoko Jr. and the Masters of Hawaiian Music: "He's won Grammy awards for his Hawaiian music; he's the main folk guy in Hawaii."
Pokey LaFarge and the South City Three: "He's going to be a big hit, you watch."
Jimmy LaFave: "He's a Woody Guthrie expert" (here for a U of A Smithsonian Folkways event celebrating Guthrie's 100th birthday – "A natural."
Jim Lauderdale – "One of the top writers in Nashville."
David Lindley: "Is there a better acoustic musician in folk music?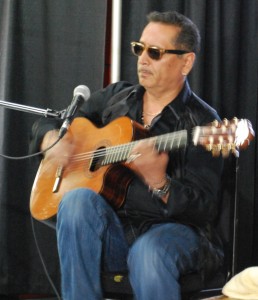 Oscar Lopez (who rocked a couple of rumbas for the folk fest press conference, right): "Oscar's great. We haven't had him for a while."
Dougie MacLean: "He's a legend, he practically wrote the Scottish national anthem."
Paul McKenna Band: "Great new band, great singer."
Lori McKenna: "Another great story" (a mother of five who's written for a who's who of country music, including Faith Hill) – "an inspiration."
Monkeyjunk: "Hot Canadian band, looking forward to it."
Mortal Coil (stilt-walkers): "They're here every year. This year they're collaborating with the National Stiltwalkers Association."
Oliver Mtukudzi and the Black Spirits: "Special, social activist, just great."
New Country Rehab: "Saw them last year. They're up and comers, really nice sound."
Mairtin O'Connor Band: "A legend in Irish music with a really strong supporting cast, another small supergroup."
Lindi Ortega: "Just one these great singer-songwriters. Have you noticed how many there are?" Not a rhetorical question. Yes.
Tom Power: "A big part of the Canadian roots scene."
School of Song: Young performer showcase from Rhea March's new project, "replacing U22."
Joanne Shenandoah: "Probably the most dedicated native artist in North America."
J.R. Shore: "Probably one of the top singer-songwriters of the Calgary scene, and we wanted to give him a chance."
Martin Simpson: "Probably the best acoustic guitarist from England, next to Richard Thompson."
Emily Smith: "Great new voice in traditional Scottish music."
Jayme Stone: "Top class musician. I like it when people use the word 'folk' to describe themselves – and he always does."
Sidi Troure: "I don't know if there is there's a country that has better folk music than Mali."
Valdy: "First time I've booked him in 24 years. Sometimes you have to correct an oversight. He's a staple, a legend of Canadian folk."
Suzie Vinnick and Rick Fines: "Again, we almost brought them in before. It's about time."
Royal Wood: "Just great. And he looks just like a movie star."
Wool on Wolves: "Great Edmonton story, I've read interviews and I like everything they said."