FOOD: The fatti is fine at Castle Bake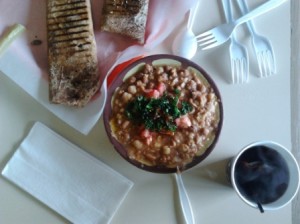 You know that thing where you talk up a restaurant for so long to anyone who will listen that when the time comes to introduce your friends to it, you begin to think maybe it's not actually as good as you've been making out?
Or maybe it's changed in some fundamental way that renders less impressive than your fond memories? That ever happen to you?
I was starting to wonder if it was going to happen to me with Castle Bake (16845 109 Street, 780.478.1821), a Lebanese restaurant tucked into a residential section of Castledowns that I've been chirping about for quite some time. Oh, it's so cheap, I kept telling everyone, and the food is so tasty and the people who run it are so nice! Suddenly, a year or more after my last visit, I began to wonder if any of the things I was saying were true.
My anxiety was relieved almost immediately when I called to find out when they opened on the most recent holiday Monday.
"Hello, thanks for calling Castle Bake, how are you?" purred an avuncular voice on the other end. He seemed so pleased that I'd called, and that I seemed to be planning a trip to his establishment. Maybe I hadn't imagined it all.
Though they open at 8 a.m., we took our sweet holiday Monday time and didn't show up at Castle Bake until 10. Like its unostentatious north-end neighbourhood, the restaurant is not long on what one might term decorative panache, even if its recent expansion has brought a new spaciousness to its donair-shop ambience. The big brick oven that is the roaring heart of Castle Bake is mere steps away from the fully enclosed service counter behind which small team of pleasant men of Middle Eastern extraction were busily filling enormous take-out orders. One of them paused long enough to help myself and two co-diners order a semblance of breakfast.
Here's where the nostalgia kicks in. Half a dozen years ago I spent some time in Beirut, and one of my strongest abiding gustatory memories was an unusual breakfast I shared that consisted entirely of various bean dishes, served with a bushel of fresh herbs, crunchy vegetables and varied pickled things. One of the dishes in particular, fatti, lingered on my palate, not least because of the stiff dose of raw garlic that inhabited it.
To my knowledge, Castle Bake is the only place in town you can get fatti ($6.99), if not the only place you can get "ful mdmas" ($7.99) – but maybe one of the only places you can get it with so few vowels. And since they're expert bakers, one might feel compelled to sample both a pita pie ($4) and a grilled wrap such as the zataar deluxe ($4.50). So we did, with tea all around to wash it down.
As per Middle Eastern custom, the tea was served black with enough sugar packets on the side to make a large angel food cake. The food, however, took a while to arrive, and anxiety reared its head again as my friends and I killed time trying to guess even one answer to the Islam-themed crossword puzzle in a community newsletter, the restaurant's only reading material. Would this lull negatively impact my group's assessment?
If my friends were getting impatient, all was forgiven when the food hit the table. First of all, there was a ton of it. The order of zataar deluxe comprised four sizable lengths of a slightly chewy, single-ply whole wheat flatbread called sauj, stuffed with olives, diced tomatoes and the eponymous ingredient – a Lebanese spice blend of thyme, sesame seeds and a little salt mixed into a paste with extra virgin olive oil – then lightly crisped in a sandwich press. Incredibly, it's even more delicious than it sounds.
The pita pie was like a pizza on a pita crust, minus tomato sauce but well supplied with cooked spinach and melted cheese. A decorative bowl brimmed with ful mdmas – fava beans stewed in lemon juice and garlic, topped with fresh parsley, diced tomatoes and olive oil to be scooped up with more sauj – which one of my co-diners found "too earthy" for her tastes. A Styrofoam plate barely contained that most coveted of preparations, fatti. Maybe this is where it all fell apart – maybe this combination of housemade yogurt, chickpeas, chunks of crisped pita, toasted almonds and pine nuts with plenty of parsley and garlic, sided with olives, pickles, fresh tomato and cucumber slices was less splendid than the version that amazed me in Beirut.
Luckily, the fatti was a hit. It was so savoury, the yogurt so rich and garlicky, the pita crisps and toasted nuts so crunchy that there was a little bit of a tussle to scrape the plate with our remaining shreds of sauj. Polishing off everything took more of an act of will, so generous were the portions.
As we paid up, another typically pleasant Castle Bake staffer made sure we enjoyed our meal and chatted about the renos that had doubled the size of the space. Our bulging bellies refused to believe the bill came to $27, and didn't keep us from ogling the massive pile of pita triangles freshly baked with zataar and olive oil ($1.50/ea.) heaped in midst of a hungry family.
I may never be fully relieved of anxiety and self-doubt, but I'm certain I'll never again doubt Castle Bake.