Area band Random Falter gets $10,000 boost from NOW! radio for new CD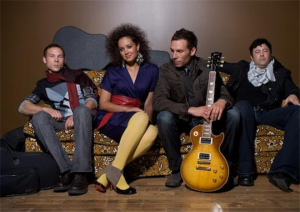 Local alt-rock band Random Falter has been working toward its debut album for four years – but it would have been a lot longer if not for a generous cash prize from NOW! Radio 102.3.
The band financed more than half of its upcoming debut with a $10,000 "10K20" grant it won last October from Rawlco Radio, which, between its NOW! and UP! radio stations, invests $400,000 a year in local recording projects (40 bands per year; previous recipients have included Christian Hansen and the Autistics and 10 Second Epic).
"It was a shock, man, it was exciting," says Random Falter frontman Trent Diehl. "It costs a lot of money, it's a lot of time, it's a lot of effort. To be able to have somebody behind you like that – honestly, we wouldn't be here today if it wasn't for them. It would be another year before we could do this album."
Random Falter will unleash the self-titled album, recorded at Black Box Studios with Steve McGonigle, with a free "soft launch" show at On the Rocks Sunday night. Electro-rockers Red Ram will open.
Random Falter's radio-ready sound is reminiscent of the Dave Matthews Band, with saxophone and keyboard leads accented by hints of Pearl Jam and a 70's rock groove.
"We're definitely a guitar-driven rock band. We believe there should be bridges in songs, we believe there should be solos," Diehl says.
The project is largely a family affair for Diehl. His wife Vanessa Wilson (formerly of Radiovacana), who runs a Sherwood Park music studio with Diehl, plays keys and tenor sax. Diehl's younger brother Trevor, who also works with him in the construction industry, handles bass, and the pair played together for years in Saskatchewan before the moving to Edmonton 12 years go.
A key element that brings Random Falter out from the pack, however, is drummer Pablo "Papa" Miraglia, who joined the fold through an online ad. Far from being a family member, Miraglia comes all the way from Argentina. The drummer gained a sizeable following playing in several bands back home before moving to Canada with his then-wife, and has brought with him a unique percussion style as well as a built-in fan base below the equator.
"The cool thing about having an Argentinian drummer is he's got a huge Spanish influence. So his rhythm techniques aren't traditional rock four-on-the-floor kind of stuff, he adds a little bit of South American, Central American flare to it," Diehl says. "We have a good fan base out there based primarily on him."
After a full album release in September, Random Falter hopes to make its way through Canada on tour and eventually, to its adoring fans waiting in Miraglia's homeland.