Citadel Theatre leads field for Sterling Awards nominations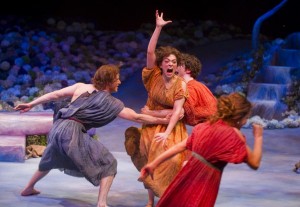 The 2011/2012 Edmonton theatre season has wrapped up like all theatre seasons have ended for the last quarter century – with the announcement of the Sterling Award nominations. And what tight races we have this year!
The main event will feature a bare-knuckles, all out, pier five brawl between Arthur Miller's classic post war masterpiece and dissertation of the American dream gone wrong, Death of a Salesman (Citadel Theatre), pitted against Red (also a Citadel production), The Ecstatics (Northern Light Theatre) and the one-two punch from Theatre Network: In On It and Michel & Ti-Jean. All are vying for the title of "Outstanding Production of a play".
The Citadel leads all local theatres with a total of 23 nominations for outstanding work of cast and crew. Teatro la Quindacina follows with nine noms, Theatre Network and Mayfield Dinner Theatre with seven each.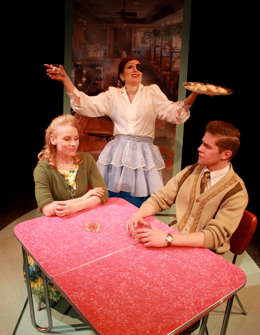 The most intense competitions of the evening will include Chicago vs. The Sound of Music: These highly populist season enders (at the Mayfield and Citadel, respectively) will duke it out for the title of "Timothy Ryan Award for Outstanding Production of a Musical." Other battles of interest are John Ullyatt (Death of a Salesman) and Julien Arnold (A Midsummer Nights' Dream), for "Outstanding Performance of an Actor in a Supporting Role" and another rematch of perennial nominees David Belke (Forsooth My Lovely) and Stewart Lemoine (Mrs. Lindeman Proposes) for the honour of "Outstanding Fringe New Work." These two sluggers have a combined total of 12 nominations and four awards in this category alone. And speaking of perennial nominees, Bob Baker (Death of a Salesman), Bradley Moss (Michel & Ti-Jean) and Ron Jenkins (Chicago) are all in the running for "Outstanding Director".
A pleasant surprise was Guys In Disguise's Christmas show With Bells On bagging itself three nominations, including one for Norman J. MacDonald's Christmas tree drag in the category of "Outstanding Costume Design." Also, it was pleasant to see that the Sterling committee didn't forget Rebecca Northan's uproarious role as the love-hungry Mimi in Blind Date (Citadel).
Of course – with any year's list of nominees – there are omissions that give one pause. One might scratch their noggins over that fact that neither Bretta Gereke nor Brian Bast got a nomination in the category of "Outstanding Set Design" (she for her plush vistas in A Midsummer Night's Dream and he with his hyper-realistic law office in Race). One might also be completely gob-smacked over the fact Theatre Yes' Canadian Premiere of David Mamet's Race did not get one single nod, or that the ponderous Hroses: An Affront to Reason got four.
For some, however, the victory is pre-ordained. Marian Brandt, Alana Broomfield, and Carl Hare will all be honoured for their achievements and contributions to the Edmonton Theatre scene.
The host for the silver anniversary Sterling awards show – taking place June 25 at the Mayfield Inn Dinner Theatre – will be Peter Brown, who is also host of CBC Radio's Radioactive. Brown also double duties as a cast member of the weekly improvised soap opera, Die-Nasty.
Click here for a complete listing of 2011/2012 nominees.