Edmonton Pride Festival more than words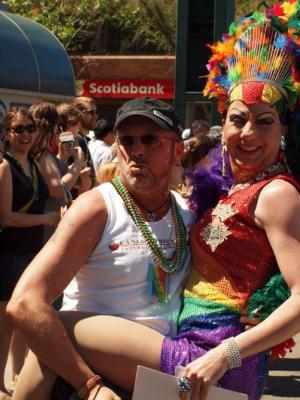 For those in the straightest quarters of Edmonton who don't know, the word "Pride" in its proper form has come to mean "gay pride," just as the word "gay" in all its meanings will apply to the big parade and subsequent party taking place Saturday at noon in downtown Edmonton. It's the Edmonton Pride Parade.
Just so we're clear.
It's not just Edmonton that has a problem with naming things. Some may wonder why, if this event and others like it across North America are meant to celebrate gay culture, that the word "gay" has been removed from "pride." Edmonton Pride co-director Michael Phair – our most famous gay man next to Darrin Hagen – has a good explanation, "It's to ensure it's inclusive in terms of people who are trans-gendered, bisexual or two spirited. Sometimes some of those groups aren't sure they're covered he when they're talking about gay and lesbian."
So now we have this cluster of consonants to deal with: LGBTQ, standing for lesbian, gay, bi, trans and questioning, to which we might add "two spirited," a term Phair used twice in a recent interview. And so, he adds, "Pride" encompasses all without being awkward. Trying saying "LGBTQ Festival" five times very fast.
Nomenclatural issues exhausted, it's time to celebrate – particularly the choice of the members of the Edmonton Public School Board as Pride parade marshals. It's honouring their recent policy "that ensures sexual and gender minority students, staff and families are welcomed, respected, accepted and supported in every school." Phair, a teacher before his 16-year stint as a city councillor, says the policy goes way beyond mere "tolerance." There was some grumbling from the publicly-funded LOGOS Christian program, among others, to the effect that the wording of the EPSB policy goes against Christian teachings that homosexuality is a sin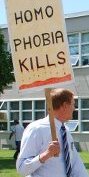 (highlighted by this lone protester at one area school that hosts a LOGOS program, right) – but Phair isn't worried. He says the next few years will be spent "implementing" the policy. Words are all well and good. It's actions that count.
"I think over time there will be some understanding and acceptance in every classroom," he says. "Edmonton has a big school system. Lots of groups that are part of it and it's not going to happen overnight."
Evidence of LGBTQ acceptance in mainstream society can be found right here in Edmonton. Phair reports there used to be some "trouble" back in the early 1990s, anti-gay protesters and such. "But in the last five or six years, nothing," he says, adding that an estimated 20,000 people came out for the parade last year, with a like number expected on Saturday. Weather permitting.
Phair says with a laugh, "That's the real worry."
Numerous events in the Edmonton Pride Festival will continue through June 17 at venues around town. Click here for schedule.