Area improviser Mark Meer up for Canadian Comedy Award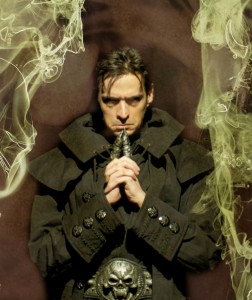 Mark Meer appears to be the only Edmonton nominee at this year's Canadian Comedy Awards – and that says more about Mark Meer than it does about any possible bias against Edmonton.
We're just one funny town in a funny country – and this particular local actor just happens to stand out because he works so hard at it. Meer is up for Best Male Improviser at the awards, which will take place Aug. 23-26 in Toronto and encompass all areas of the comedy arts, from stand-up to podcasts, most of the creators from Toronto or vicinity. Matt Baram – former Edmontonian since moved to Toronto and substantial TV fame – is also up for the male improviser award. The full nominee list is here.
"In my opinion, there are improvisers in Edmonton more deserving than I," Meer says, "but of course it's an honour to be nominated."
On the dearth of other Edmonton nominees, he adds, "I can't complain too much. There are a lot of great groups from Edmonton, but there are a lot of great groups across the country. Competition is always stiff at the Canadian Comedy Awards."
There's little doubt that Meer deserves the honour. It has been said that he is the hardest working man in Edmonton show business. Media stories about him often end up as a list of what he's doing. Basking in the Mass Effect 3 afterglow comes in at No. 1. The actor plays the part of Commander Shepard in the popular video game series – work that Meer compares to a TV series, having to fill about 40 hours of story per game – earning a strange kind of niche celebrity normally reserved for people like Leonard Nimoy. Meer, a big comic book fan, says one of the biggest thrills is actually being invited to appear at comic book and video game conventions, where he was a mere spectator before.
"It's what I would like to do in my spare time anyway," he says. "It's the best gig I ever had."
To continue with the list, Meer just finished a run with the Die-Nasty improvised soap opera – 2007 winner of the Canadian Comedy Award for best improv troupe – and will be appearing at Improvaganza, starting June 13 in the Varscona Theatre and the TransAlta Arts Barns. He'll be improvising Shakespeare, and also hosting a rousing game of improvised Dungeons & Dragons, where he serves as the dungeon-master. Fans of CBC's Irrelevant Show can enjoy Meer's impression of Gilbert Gottfried reading Jane Austen. And in the fall, tune into Superchannel for Tiny Plastic Men, a hybrid of sitcom and sketch comedy starring Meer, Chris Craddock and Matt Alden as prototype testers at a toy factory.
Winners of the Canadian Comedy Awards will receive "bragging rights and an attractive plaque," Meer says.