Interview with a Wailer: High times and kindred spirits at Open Sky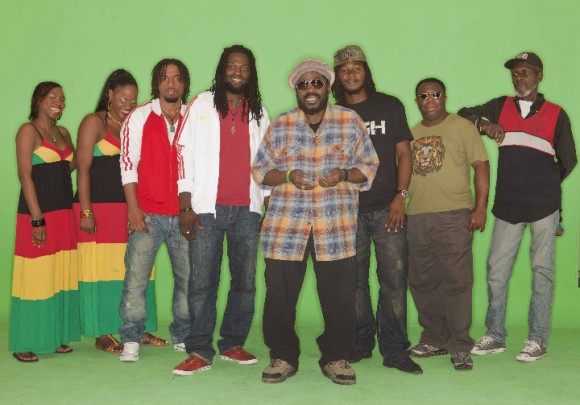 You don't have to smoke marijuana to play reggae properly – but it helps.
"God knows!" declares Barrington Brown, aka Koolant, the new lead singer for the Wailers – who, at the age of 27, hasn't been alive as long as Bob Marley has been dead. Koolant is nonetheless a stone-cold, real-deal Jamaican Rasta-man who got that once-in-lifetime phone call from the Wailers two years ago after working hard to make a name for himself – if not a lot of money – in the Jamaican music scene. He'll be making his first appearance in Edmonton when Marley's former backing band headlines the Open Sky Music Festival in Hawrelak Park Saturday night. Much peace and love and marijuana are expected.
In a recent phone interview, Koolant makes it clear, "If I'm playing reggae music and I don't have marijuana, I don't feel good."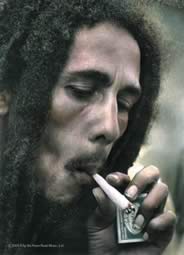 Nathan Richards, producer of the Open Sky festival that runs Friday through Sunday, says he'd be a fool to deny there might be a wee bit of ganja in the park. A wide variety of reggae, reggae-ish and other like-minded musical acts will be on stage, as this festival attempts to bring an "island" feel to Edmonton – "depending on which island you're on," the producer says, "last year it was Hawaii, this year it's Jamaica." As for pot, "I think there's some universal appreciation for the drug. I do think it brings people together and creates a close connection with the music."
Richards, a non-toker himself, adds, "We've never had an incident here where anyone has been reprimanded or arrested for any issues."
The official unofficial policy of the Edmonton Police Service in dealing with dope smoking at rock concerts is to ignore it – unless the individual is causing a problem, usually also under the influence of alcohol. Indeed, you're more likely to get into trouble at a modern music festival for lighting a cigarette.
You could make the case that the sacramental herb hastened the spread of reggae throughout White America. It certainly wasn't the only factor, but it must've helped create a few million kindred spirits. Marijuana use became widespread in the '60s. Reggae became a big underground deal in America in the '60s – and reggae musicians smoked even more grass than the hippies. No, not all of them, but Bob Marley did. It was a perfect match. Reggae quickly became counterculture cool. Artists like Jimmy Cliff, The Maytals and Johnny Nash (who scored the first American reggae hit in with 1972 Marley's song Stir It Up) paved the way for Bob Marley and the Wailers' magical fusion of island groove and slick Motown production. By the mid-'70s, Marley was a superstar – and marijuana use was more prevalent than ever. Coincidence, you say?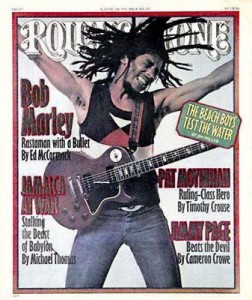 Well, it's just a theory. A stronger case can be made that the political themes in Marley's music created the biggest and most lasting connection with the North American counterculture. Get Up Stand Up, One Love, Redemption Song and many other iconic reggae classics would not have stood up all this time if they were just about getting high. To a much greater extent than hippies were considered a threat in North America, Rastafarian culture and its music and religion – born out of slavery, spread wide by its prophet Bob Marley – was seen as a disruptive influence by the Jamaican government. Still is, some say. Koolant lives in Jamaica. He ought to know. The Wailers chose him as much for his voice as his politically-charged original music, which includes songs like "Why You Want To Kill Your Own Kind" and "Rat Race."
Koolant says, "I am in front of the people singing these songs that some people did not like, that the people in the higher class do not like, because it's revolutionary music. Yet still the people of the world want to hear it because the people want to be free … Poor people will always get beaten. I don't know when a day will come that poor people are going to live well."
There's a bit of a language barrier here. Jamaica's official language may be English, but Koolant's speech – like that of the late Bob Marley – is a thick Caribbean patois as cryptic as any accent heard from the deepest parts of Ireland, another island, come to think of it. Koolant says a lot of about loving "righteousness" and how important it is to open up what he calls the "Rasta ear" and a whole bunch of other stuff the white American interviewer didn't understand. He kept saying, "You know what I'm saying?"
But he doesn't need to say much to make the point, "The message is a never ending message. It still lives on today, because the world is full of hate, and always the world needs to hear consciousness. When I sing these songs, I think about righteousness and what this music is teaching me, too, consciousness in my own self. I just do it."
Whether or not you need to smoke up to make the message clearer is up to you.
Mainstage Schedule:
Friday, June 8
8:45 pm: Chali 2na
7:30 pm: Jon and Roy
6:15 pm: Souljah Fyah (right)
5 pm: Michael Bernard Fitzgerald
Saturday, June 9
8:45 pm: The Wailers
7:30 pm: Current Swell
6:15 pm: Tribal Seeds
5:10 pm: 77 Jefferson
4:35 pm: Del Barber
3:45 pm: Kim Churchill
2:40 pm: The Steadies
1:45 pm: Brave New Waves
12:50 pm: Third Branch
Noon: The Collective West
Sunday, June 10
8:45 pm: Five Alarm Funk
7:30 pm: Mishka
6:15 pm: Hey Ocean
5:00 pm: Shane Philip
3:55 pm: Anuhea
3:00 pm: Through the Roots
2:00 pm: Wool on Wolves
1:00 pm: Scott Cook and the Long Weekends
Noon: The Whytes