City crime novelist wins $10,000 prize at Alberta Book Awards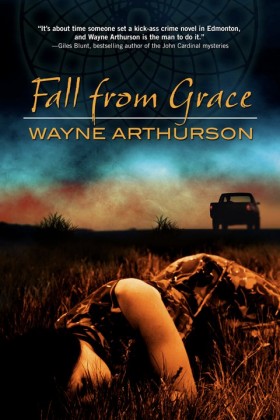 Wayne Arthurson's tale of life and death on the mean streets of Edmonton turns out to be a big hit with Alberta readers. The local author has won the top prize at the Alberta Book Awards – a $10,000 Alberta Reader's Choice Award honouring his first novel, Fall From Grace, dealing with a gambling-addicted newspaper reporter investigating the murder of an Aboriginal woman. Decided by public vote, it's the largest cash prize of more than a dozen literary awards presented in Calgary Saturday night, and which for the first time made eligible Alberta writers with publishing deals outside the province. Arthurson's novels are put out by Forge Books in New York City.
"I was pleasantly shocked at winning the award," says Arthurson. "I had no idea I would win, I actually thought someone else would, and my heart was pounding while they read the nominees. Then they called my name and told my wife 'I think I might faint.' It was a great honour to get this award because it was voted by Alberta readers and nothing's better than having readers say your book is the best in the province."
Arthurson's book beat out the other four finalists: Freddy's War by Judy Schultz, In the Suicide's Library by Tim Bowling, Nobody Cries at Bingo by Dawn Dumont and The Antagonist by Lynn Coady.
Arthurson, who has written history books, has worked as a reporter for a newspaper – like his hero Leo Desroches – released his second novel, A Killing Winter, on April 10. More sequels are in the works. He also happens to be GigCity's literary correspondent-at-large – shameless self-promotion alert – and was actually covering the Alberta Book Awards for us, but will be spared from writing about himself this time.
Other winners:
Robert Kroetsch Poetry Book Award – Susan McCaslin, Demeter Goes Skydiving
Lifetime Achievement Award – Diane Bessai
Lois Hole Award for Editorial Excellence – Jalal Barzanji, The Man in Blue Pyjamas
Trade Non-Fiction Book Award – M. Ann Hall, The Grads Are Playing Tonight!
Trade Fiction Book Award – Kristen den Hartog, And Me Among Them by
Scholarly & Academic Book Award – Recollecting: Lives of Aboriginal Women of the Canadian Northwest and Badlands, edited by Sarah Carter and Patricia McCormack
Children's & Young Adult Book Award – Wayne Lynch, Canadian Rockies Wildlife for Kids
R. Ross Annett Award for Children's Literature – Cathy Ostlere
Georges Bugnet Award for Fiction – Lynn Coady, The Antagonist
Wilfrid Eggleston Award for Nonfiction – Alice Major, Intersecting Sets: A Poet Looks at Science
Gwen Pharis Ringwood Award for Drama – Nicole Moeller, An Almost Perfect Thing
Stephan G. Stephansson Award for Poetry – Tim Bowling, Tenderman
Amber Bowerman Memorial Travel Writing Award – Alison Karlene Hodgins, A World Away
James H. Gray Award for Short Nonfiction – Jannie Edwards, All Night Mirror: Notes Toward an Elegy
Howard O'Hagan Award for Short Story – Amy Bright, Look at it This Way
Golden Pen Award for Lifetime Achievement – Fred Stenson (Calgary)
Book Cover/Jacket – Natalie Olsen, for House of Spells by Robert Pepper-Smith
Book Design – Marvin Harder, for Three-Persons and the Chokitapix by Allen Ronaghan
Publisher of the Year – University of Calgary Press