CONCERT REVIEW: The Wailers spread love at Open Sky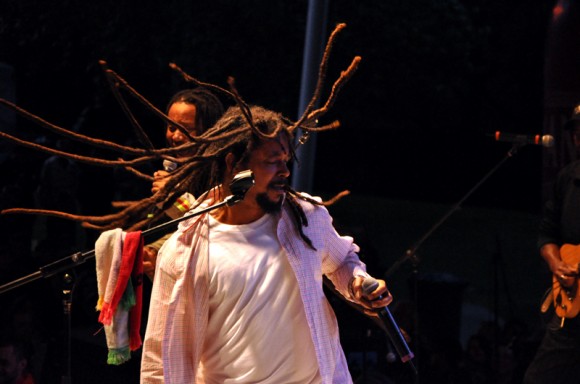 The skies sure opened wide Saturday evening at the Open Sky Music Festival – but that didn't stop the revelry at Hawrelak Park's Heritage Amphitheatre. Girls danced in the downpour, teenagers wrapped themselves up like ghosts in soaking sleeping bags, and dreadlocked students made friendly conversation while the weather howled through the festival grounds and into the tented amphitheatre. With headlining act, Bob Marley's legendary Wailers, about to take the stage, it would take more than little heavy rain to kill the positive vibes.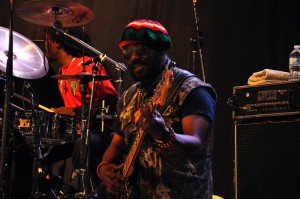 Carrying on the legend of Bob Marley, the group – which features original bass player Aston "Family Man" Barrett (right) – just may be the most substantial feel-good band ever to walk this Earth. It's impossible not to groove to the music, which practically pours out sunshine and good feelings, yet there's still a message there – which lead singer Koolant made sure to remind the audience of in his indecipherable Jamaican patois. And sure, we could see his breath while he was singing, but it still felt like summer.
Marley favourites were heavy on the agenda, and versions of I Shot The Sheriff, Three Little Birds, One Love, Jammin', and Could You Be Loved had the audience – by this time well lubed up on cans of Sleeman – singing along at the top of their lungs. And despite what one might reasonably assume would happen at such a concert featuring a reggae band that's almost synonymous with lighting up illegal substances, surprisingly few telltale skunky clouds rose up under the vast amphitheatre awning. It wasn't even needed: there was a blissful haze over everything simply by virtue of the music.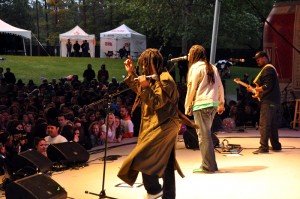 For an encore, the audience was treated to a beautiful, powerful a cappella rendition of Redemption Song. One of The Wailers' best-known – and most covered – tunes, its message still resonates 32 years after it was released: "Emancipate yourself from mental slavery, none but ourselves can free our minds."
Earlier in the afternoon, lots more surf, rock, roots and reggae music was to be had. The Collective West kicked things off on the main stage around noon, and things flowed steadily from there with side stage offerings between some of the main acts. With the on-off weather, it was nice to have Cha Island Tea Co. around providing loose-leaf teas perfect for warming up the fingers and staving off the chill later on. Drift food truck was on site as well with its globally inspired sandwich menu and ingredients sourced from local producers – a bit of relief from the greaseball fare that seems to be a ubiquitous part of music festivals. Barefoot Wines was also present, handing out handy-dandy purple ponchos that turned out to be a true blessing.
But like we already said, the dampness couldn't put a damper on things at Open Sky. Everyone had one love on their minds, and it was The Wailers.
The Open Sky Music Festival continues Sunday night, featuring bands like Five Alarm Funk, Mishka and Hey Ocean.
(Photos by Robin Schroffel)
(Read interview with Koolant here)