WHAT'S SO FUNNY: Improvaganza to bridge comedy arts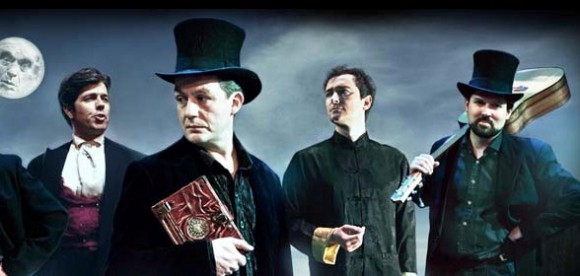 An embarrassment of riches awaits the hungry comedy fan this week – fortunately, the brave performers at Improvaganza are immune from embarrassment. Also, they generally never say no to any suggestion, another trait that will hold them in good stead at Rapid Fire Theatre's annual "international improv comedy festival," opening Wednesday at the Varscona Theatre.
The international part is easy. Guests will include the School of Night (above), a group from London, England referred to as "hard bardic improvisers," which means you might want to bone up on your literary classics to get all the jokes. At least the Cliff's Notes. A troupe called Dad's Garage is from Atlanta, Georgia. One can parse their slant with such works as Musicals Suck, the Musical – and we can see why they are called Rapid Fire's "sisters to the South." From Montreal – home of the Just for Laughs Festival and thus all comedy in Canada – comes Uncalled For. Again, mere titles of their work – Thunderspank, Blastback Babyzap – suggest the gist of the drift these guys are coming from.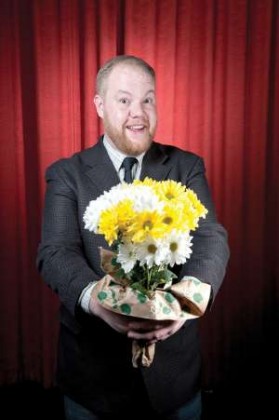 But we call "false advertising!" on the "improv" part of Improvaganza when we see the list of scripted acts, including a slate of stand-up comics, including the fine young comic Jon Mick (right), who made the move from Whyte Avenue hipster to Queen Street hipster in February. If you don't know where Queen Street is, you're just not hip, so never mind. Rapid Fire's artistic director Amy Shostak actually made the joke that "so many" female comics coming constitutes a "broad topic," so don't make sexist accusations. Jon Mick: You can use that joke in your act if you want. Anyway, there are two comediennes that can be counted in the June 21 Stand-up Showcase: Cheryl Hamm and Maria Bamford, which we guess is a lot in such a male-dominated field of comedy arts.
Various fake comedy battles, improv games, sketches, skits, bits and pratfalls will continue at Improvaganza through June 23. Most of the participants will not fear embarrassment. Nay, some welcome it with open arms – never saying no for the opportunity of looking ridiculous in the service of comedy.
For full schedule and tickets, click here.
A serious comedy question now: You could apply it to several festivals happening around Edmonton, some of them struggling to attract crowds. The Edmonton Comedy Festival – in October – also attempts to bridge stand-up with improv/sketch comedy, though it is much more weighted to stand-up. Would it be better to combine forces into one giant festival or is it better to have two smaller events? Inquiring minds want to know.
New Comedy Club Springs up in West Edmonton
The Vault, just a short jaunt from West Edmonton Mall at 8214 175 Street, is now running live comedy every Monday night – with some strong headliners, too. On June 11 it's Kathleen McGee, another former Edmonton moved to Toronto. She works really dirty. June 18 features Andrew Iwanyk, while Sean Lecomber – another local comic we know – takes the stage on June 25. Call 780.481.8558 for reservations.