Edward Sharpe and the Magnetic Zeros hit town Sept. 18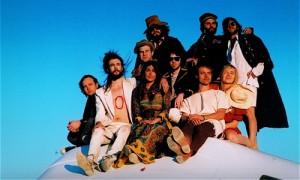 Fans of one of the freshest and most eclectic acts seen at last year's Edmonton Folk Music Festival won't want to miss the return of Edward Sharpe and the Magnetic Zeros. The band has announced a cavalcade of tour dates for early fall – including Tuesday, Sept. 18 at Edmonton Event Centre. Tickets go on sale Friday.
The band is touring behind its second album – entitled "Here" – released just two weeks ago. At the folk fest, fans may remember a riveting performance from the frontmen, as Alex Ebert strutted around (and off) the stage, and Jade Castrinos captivated the audience. The band's first album – 2009's "Up From Below" – won critical acclaim and wrangled its way onto the Billboard Top 200, not an easy feat for any band's first album; many of its songs are still in rotation on radio stations across North America, including here in Edmonton. Their newest album features the same jangly indie rock, but a little more diverse and a little more refined. With strong songs like "That's What's Up" and "One Love To Another", the album is sure to wind up on many 2012 "best of" lists.
Opening for Edward Sharpe at the EEC will be Clap Your Hands Say Yeah, a Brooklyn/Philadelphia indie rock act.