WEEKEND MUSIC PREVIEW: Slaughter Fest invades Avenue
Posted on June 14, 2012 By Michael Senchuk Music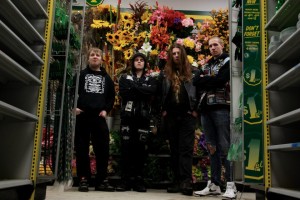 As Alberta music fans shift their attention southward to Calgary for the impending Sled Island music festival, there are definitely still some shows in Edmonton worth checking out. On Friday night a new Edmonton electro band called Terrace plays its first live show ever at the Haven Social Club; and on Saturday a lengthy list of talented metal bands take the stage at Avenue Theatre for Slaughter Fest 2012.
Friday
Dr. Hook Featuring Ray Sawyer – It seems like it's been a while since one of the casinos brought in a "classic" act – so how about this weekend's Dr. Hook show? The band had a bevy of top hits in the '70s, perhaps best known for "The Cover of the Rolling Stone," which holds up as long as they keep putting bands on the cover of the Rolling Stone. Century Casino, 7 pm, $39.95 plus service charges.
Scenic Route To Alaska – The Elevation Room hosts this local alt-folk group's all-ages release party. Long Sharp Teeth and The Fight open. 8 pm, $15.
Terrace – This electronic trio released its debut EP last November, and is currently working on its follow-up, which should be out very soon. It better be – because everyone attending this show will get their own copy. It's the band's first ever live show, and they "couldn't be more stoked!" DJ Ready Made (Jesse Sherburne) will be spinning tracks before and after their performance. Haven Social Club, 8 pm, $10.
Saturday
Slaughter Fest 2012 – An all-ages metal event at Avenue Theatre that sees the first band take the stage at 5:30 and the last finishing after eleven, this shall be an epic night for local fans. Bands include Hammerdown, Wolves Of Chernobyl, Shreddar, Anubian, Autopsy Of An Icon, Eye Of Horus, Silent Line, Mongol, and Display Of Decay (above). Avenue Theatre, 5 pm, $15.
Shearing Pinx/Random Cutz – The Wunderbar features these two Vancouver noise punk acts, as well as Zebra Pulse and Look Away. This is the return trip west for both acts, as they've been touring together, venturing as far as New Brunswick and Nova Scotia. 8 pm, $7.