GRAFFITI CRACKDOWN: Police seize artwork from gallery opening
The owner of an Edmonton arts supplies store and gallery where police seized dozens of pieces of graffiti art this week says the raid will likely discourage illegal artists from going legitimate.
Kim Fjordbotten, owner of The Paint Spot on Whyte Avenue, says six officers showed up at her business on June 14 shortly before an opening reception for an exhibit that included many pieces by an artist identified only as "DP." The officers had a warrant that stated they were there to collect artwork and documents relating to graffiti vandals, in particular those relating to a graffiti artist known as "Daft Punk."
"They told my staff to step away from the computers," Fjordbotten says. "They're trying to link our artist DP with the graffiti artist Daft Punk. To be honest, I don't know if the person is the artist."
Fjordbotten says she tried to argue that the officers shouldn't seize anything, but since they had the warrant, she said it was little use. The space on the gallery walls is now empty except for a copy of the warrant. She says the officers also took a written contract between her and the artist.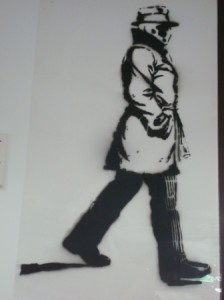 A police spokesperson said Friday that charges are pending in the case, likely mischief causing damage to property under $5,000. The spokesperson said the art will eventually be returned to the artist. Fjordbotten says she tried to keep her dealings with DP as anonymous as possible but she says some records were necessary for tax purposes. She said Friday that she hadn't spoken with a lawyer, and that she had only talked briefly since the raid with the person who she said dropped off DP's pieces at her shop.
A handwritten note, though not in the artist's handwriting, was to accompany the exhibit: "I do what I do with love as my intention. That is all I have to say about myself and my work. I believe that the war on graffiti cannot be won and the more the city resists, the more it will persist," the note states. "I believe in free walls and I'm not for grey or beige. Plain and simple. I am not in a gang and I am not a bad person. I would never paint anything
in public that I wouldn't want my own children to see. When my children see my art in the street they smile and are engaged!"
An anti-graffiti symposium hosted by Capital City Cleanup in Edmonton last October included a session called "Penmanship of a Vandal," which offered techniques for using graffiti style comparisons as evidence for obtaining convictions. Several experts as well as some graffiti artists who spoke at the conference, which was attended by police officers from across North America, also noted that artists who do legal graffiti-style work typically begin as illegal artists or taggers.
Fjordbotten says she has attempted to organize graffiti zones in her neighbourhood where the art would be legal. But she says it's hard to get artists to meet with her, and she suspects it's because they fear that going on record with one of their pieces could end up being used to link them with their illegal work.
"This is just further proof that if they come out, they will be prosecuted," Fjordbotten says about this week's raid.
Last month, a 22-year-old named Kyle Duffield was fined more than $5,000, received 18 months probation and was ordered to perform 250 hours of community service after pleading guilty to 17 counts of mischief related to spray-painting his nickname throughout the city.
Kristy Trinier of the Edmonton Arts Council told delegates at the symposium last year that there is a difference between "graffiti vandalism" and "graffiti art." Trinier also pointed out that in New York and London, once-illegal pieces of graffiti art have been embraced by neighbourhoods and are now protected. She was challenged, however, by a delegate who said that while it may be art, people aren't particularly thrilled when it shows up on their property.
When reached on Friday, Trinier said it's very rare for police to seize art from a gallery in order to link it to graffiti, although she recalled it happening once in Los Angeles. She said the Arts Council encourages street artists to use the city's free wall, which requires no fee or registration, and that the council also helps property owners set up their own free walls. The Arts Council helps facilitate commissions for street artists, too, but Trinier said she wasn't sure what effect the seizure at The Paint Spot would have on that program.
"We'll certainly be watching to see how the case plays out," Trinier said. "It will be up to a judge whether the evidence is admissible."
Fjordbotten says seven of the DP pieces that were seized had already been purchased. She says police have told her they will eventually be returned to their owners. She also noted that the fact they were seized by police will likely increase their value.
"The officers were not disrespectful. Many of them admired the work and they packed it up carefully," she said.
Fjordbotten said she didn't think the officers intended the raid to happen just before the official opening that evening. She said she thought it was simply a coincidence. She added, "They looked surprised to see we had coffee and tea out."