Apocalyptic Pagan rock opera to premiere at North Country Fair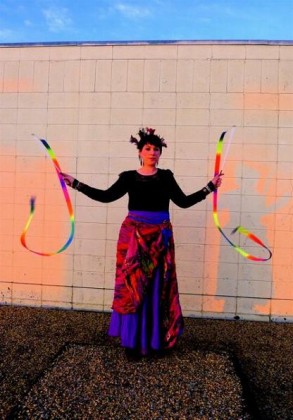 Here's a devilish scenario: What if – of all religions – Paganism turns out to be the correct one? Like, hey, didn't see that coming. Imagine: The Mother Earth Goddess, aka Gaia, has been beaten and raped by humanity. Her husband, meanwhile, doesn't know because he's been asleep for several hundred years following an epic drunken bender, but is about to wake up grumpy. Cue end of world as we know it.
Call him what you will: Baal, Moloch, Satan, Shiva – Pagans call him The Green Man – but he's coming back and he's pissed.
If you think that's a heavy concept for a rock opera, get a load of where "Awakening the Green Man" is making its world premiere: On an outdoor stage at the North Country Fair on Sunday, June 24 at 1 a.m. – the darkest hour of the shortest night of the year (close enough). The summer solstice is of course a special day for people of the Pagan persuasion.
The musical's creator is Edmonton musician and producer John Armstrong, who – as was the case with his popular Christmas Carol Project – collaborated with a group of local musicians on this new, much darker project whose story sets up a variety of songs exploring the stated premise. With characters switching identities through various religions and cultures, the band includes Kevin Cook and Tom Roschkov (the only two original members of the Christmas Carol Project), with Sherry-Lee Heschel as the Earth Goddess. Most of the 10 musicians wrote or co-wrote their own songs: Ready To Erupt, The Garden is Overgrown, Suicide Seeds, Playing With Fire, Destroyer of Worlds, you may be sensing a theme here.
The central character – The Green Man – has been dormant even in Pagan culture, Armstrong explains, while being demonized in others. The entire story is basically a conversation between the Gaia and The Green Man, "him almost waking up, and her trying to lull him back to sleep, saying, 'give them a chance, they are trying,' and he's basically making an argument for mass extinction – wiping humanity off the planet and starting fresh."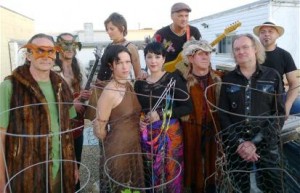 Contrary to all the bad press he's gotten, the Pagan deity of doom is not evil. He's only doing what comes naturally.
Armstrong says, "In ancient religions, the male deity is often charged with the responsibility for change, death, rebirth. It is a necessary part of life. Part of the argument he's making is that it's natural, and it's going to happen sooner or later."
Preaching to the choir with a musical like this – not many oil company executives expected to attend the North Country Fair – won't alleviate the grim mood among many modern environmentalists, some who might passionately agree with the Green Man. But this is a rock opera, at heart, a work of art, whose creators hope for just as much longevity as the Christmas Carol Project, which has enjoyed a successful, if seasonal, 16-year run.
"This is a lot heavier than the Christmas Carol Project," Armstrong says. "We even have a doom metal song. We had to research to find out what it was."
The rest of the styles are all over the map – rock, folk, worldbeat. Armstrong, who will play the theremin and other effects, adds, "It's amazing how many different styles of music you can add a banjo to and get away with it."
Well, that ties it: The banjo, as everyone knows, is the tool of the devil.
Tickets to the North Country Fair, happening Friday through Sunday near Joussard, Alberta, on the shores of Lesser Slave Lake, are $120 at the gate ($80 for youth), including camping. Day passes are also available. As for the musical line-up, if you're wondering where all the cool Edmonton bands are this weekend – they're at the North Country Fair. Acts range from SNFU to Valdy and Fred Penner, plus locals like the Awesomehots, Mad Bomber Society, Tzadeka, Mile Zero Dance, and many, MANY more. Click here for the complete schedule.