REVIEW: Bryan Adams takes fans back to '80s
Escapism comes in many forms: rom-coms, daydreaming….
And Bryan Adams. With the Canadian icon's endless list of sticky-sweet, hook-laden hits, listening to him is just like reading a good novel or eating half a pumpkin pie in one sitting. It just feels good.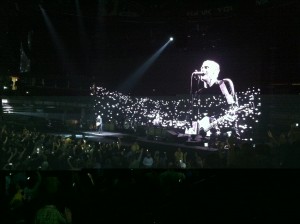 Adams passed down that comfort-zone spirit to the crowd at Rexall Place Tuesday night as he celebrated the 20th anniversary (plus one) of his bestselling sixth record Waking Up The Neighbours. For two hours, the singer and his four-piece band, all matching in black shirts and blue jeans, conjured up teenage summer nights, steamy romances and scenes from Robin Hood: Prince of Thieves. The crowd was all smiles, sing-alongs, and stomping on the metal risers, lost in the moment Adams asked them to remember forever.
It was as intimate a show as one could ask for, the stage set up to a reasonably cozy size and the house lights burning bright between every break, creating a feeling of unity. Adams spoke to the crowd conversationally, and as he said, there was just "so many damn songs."
Adams explored all his usual themes: being young with "Kids Wanna Rock," "Summer of '69," and "18 Till I Die"; blissful love with "Cloud Number Nine," and "Heaven"; and sad love with "Please Forgive Me."
His voice, that trademark whiskey-smooth, was practically flawless, and he switched back and forth between acoustic and electric guitar, adding harmonicas here and there. The band even pulled out the garbage-can drums for an extended drum solo; hopefully it resulted in some increased profits for the guy outside by the LRT station doing the same thing.
Halfway through the show, Adams chose a girl from the crowd to come up and do "When You're Gone," as is his custom. The lucky lady was a local teacher whose enthusiasm waned a little when Adams wouldn't play "Straight From The Heart," but despite not knowing the lyrics she soldiered on and in the end, told her it "took balls" to do what she did and proclaimed her grade an "E for effort."
Adams skillfully accepted his encores without leaving the stage at all, launching first into "Straight From The Heart," ensuring no teachers were left disappointed, and finally – to the delight of the audience, who cheered at every mention of the homeland – wrapped up with "Alberta Bound." Then, the lights came on, and it was back to the real world.