Summer Solstice offers world-class chamber music lineup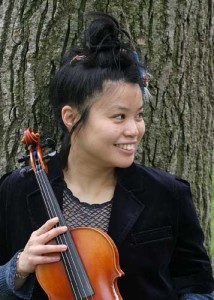 Three of the continent's finest classical musicians will grace the lineup of the Edmonton Chamber Music Society's 2012 Summer Solstice Festival, running Friday through Sunday at Convocation Hall in the Arts Building of the U of A.
Joining the three-day event will be Edmonton-born violinist Jessica Linnebach, currently associate concertmaster of the National Arts Centre Orchestra; cellist Shauna Rolston, one of Canada's most celebrated cellists; and pianist Stephen Prutsman, a frequent collaborator with the world-renowned Kronos Quartet.
The addition of Linnebach, Rolston and Prutsman will comprise the largest roster of talent ever assembled in the five-year history of the festival, organizers say.
Performers new to Summer Solstice this year include Nora Bumanis, principal harpist with the Edmonton Symphony Orchestra; violist Che-Yen Chen, a founding member of the Formosa Quartet; flutist Tara Helen O'Connor, a member of the woodwind quintet Windscape and soloist with the Bach Aria Group; violinist Daniel Phillips, a member of the Orion String Quartet, in residence at the Chamber Music Society of Lincoln Center; and Julianne Scott, principal clarinetist with the Edmonton Symphony Orchestra.
Festival passes for the 2012 Summer Solstice Festival are $50 for adults, $40 for seniors and $15 for students and available from the ECMS, Tix On the Square or The Gramophone.