TEDESCHI TRUCKS: Marriage like a band, band like a marriage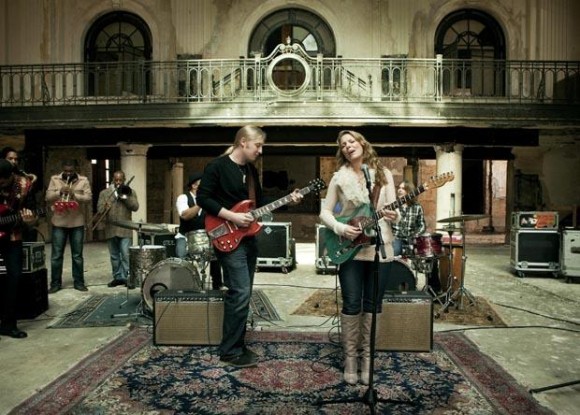 We've beaten to death this idea that being in a band is like a marriage – but what about a band that literally is a marriage?
The Tedeschi Trucks Band – at the Jubilee Auditorium Friday night – is centred around Derek Trucks and Susan Tedeschi, a power blues couple if there ever was one. Trucks plays for the Allman Brothers, has worked with people like Eric Clapton; his wife Susan has shared the stage with a likewise impressive list of heavy cats. They both had happening solo careers, met when Tedeschi was opening for the Allmans in 1999.
In a phone interview, she recalls the first time she jammed with Derek, "I was on tour with Willie Nelson and he flew out and surprised me at the Fourth of July Picnic that Willie does. That was a lot of fun. And ever since we not only jammed together, but with a lot of amazing people, too."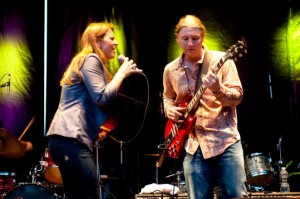 And fell in love, don't forget. Derek and Susan wed in 2001, had two children, formed their 11-piece monster blues band in 2010 and promptly won the Grammy for best blues album for their debut, Revelator. The best is yet to come, Tedeschi declares, despite the fact that musicians are being robbed blind by the public "and that's why people have to tour so much."
As we can see from the evidence on E! and in other celebrity gossip media, famous relationships are sorely tested by the rigours of show business, especially with long periods spent apart on respective careers – but now this particular couple is together 24-7. The family's helping out. Derek's mom and dad are on the road with them for the summer, and so are the kids, aged 10 and 7. It's a regular Trucks Family Jamboree.
Being on the road together has only helped their marriage, Tedeschi says. "I think we're getting along better. It's nice not being on the cell phone so much. I think that makes you cranky. It's been good because we respect each other a lot musically, and as friends. It helps that relationship even more."
Flipping it around to ask how the marriage has affected the music, Tedeschi says, "It took a little while to find our roles. We're both used to leading, both used to doing certain things, both strongly opinionated. But at the end of the day, we agree on a lot of things." As for who's the leader of the family, the wife defers to the husband, but then starts talking about the band, "I have the say with certain things, when it comes to kids, family and home, but he's in charge. He's the man of the house. He's a good leader. We all let him do his thing. He has a nice vision of the whole picture. He sees this band doing things we can't even really imagine."
The evidence is certainly piling up: Being in a marriage is like being in a band. Each time you play together is like sex. If the first time is great, you do it again, and the more you play together, the more likely it is that you're eventually going to have that talk: "Isn't it time we got serious?"