Painter Arlene Wasylynchuk wins new $10,000 arts prize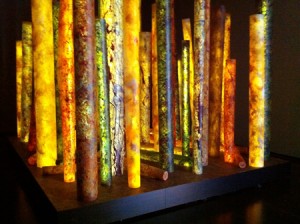 Edmonton's newest arts award went to painter Arlene Wasylynchuk as she won the first $10,000 Eldon & Anne Foote Edmonton Visual Arts Prize, presented by the Visual Arts Alberta Association (VAAA) on June 20.
"I'm really honoured," said Wasylynchuk. "It was a great group to get short-listed with and it's great for the city to have an ongoing arts award."
Known primarily as a painter, her installation Saltus Illuminati (above) showed at the Art Gallery of Alberta (AGA) last winter. Stemming from Wasylynchuk's life long affection nature and hiking, the work is comprised of almost 70 stylized "trees," constructed of long sheets of clear Lexan plastic painted in abstract motifs and then embedded with forest materials. The sheets were then rolled into tubes and lit from within by LED lights and hung as a virtual "forest" through which viewers could walk.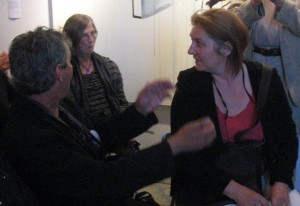 Wasylynchuk (reacting to her victory, right) is represented locally by the Scott Gallery, and although she has had numerous shows there, they've been almost all landscape treatments on canvas. However, the departure that produced "Saltus Iluminati" doesn't surprise gallery owner Marianne Scott.
"Arlene continuously stretches," she said. "She's not settled into one line and she wants to have people observe and take part in what they see."
If you missed the AGA exhibition, a number of Wasylynchuk's "individual trees" will be coming to the Scott Gallery within the next few weeks.
Chosen from 15 nominees from 15 different galleries, the winner was decided by a trio of out-of-town jurors: Cindy Baker, a Saskatoon performance and multimedia artist, Barbara Amos, a Calgary painter, and Robert Steven, executive director and curator of the Art Gallery of Grande Prairie. They took into account individual criteria of "the works artistic, historical and social merit … (and) their perception of the work in the context of the artist's career, in the context of relevant artistic tradition(s), and in the context of the practice of visual art in Canada."
Other nominees included Paul Freeman by Harcourt House Arts Centre; Alan Henderson by Douglas Udell Gallery; David Janzen by Peter Robertson Gallery; and Amy Loewan by Strathcona County Art Gallery@501. Funding for the award has been established for the next four years with the support of the Eldon & Anne Foote Fund at Edmonton Community Foundation and in partnership with the Edmonton Arts Council and Visual Arts Alberta Association.