Metric to bring sweet and crunchy sound to Rexall Place in November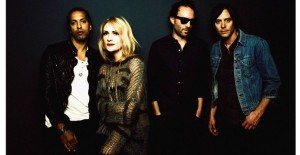 A year and change after the band wowed the crowd at Sonic Boom 2011, Metric is returning to headline in its own right – inside the big building this time. At last.
The band plays Thursday, Nov. 15 at Rexall Place, with Stars opening. Tickets go on sale Friday.
On the strength of such killer tunes as Monster Hospital and Gold Guns Girls and their sweet and crunchy sound – sweet from the vocals of lovely and talented Emily Haines, crunchy from the ferocious backing band – this Canadian group has seen a steady rise in popularity since it started in 1998. Metric is touring 10 dates across Canada this November behind its latest album, Synthetica, and the equally killer hit single therein, Youth Without Youth. Oh, man, aren't we all feeling that right about now.