St. Nicks skydive for the Edmonton Food Bank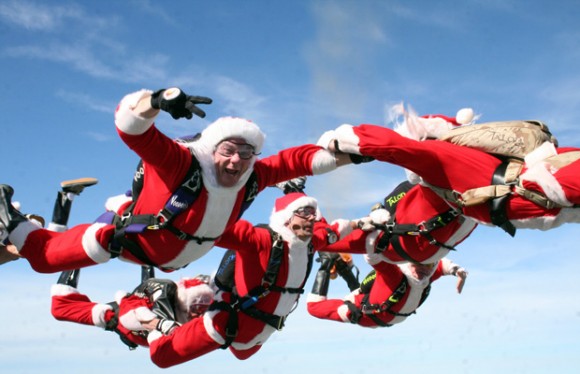 If you think the site of multiple St. Nicholas' jumping out of an airplane in the middle of June is weird … well, you might be right about that.
But organizers of the 2012 Edition of the Edmonton Singing Christmas tree might counter that it's weird in a society as wealthy as ours, 15,000 people have to use the Edmonton Food Bank monthly.
Or, if not weird, then pathetically unfair. The show has raised more than $192,000 for the food bank and 630 CHED's Santas Anonymous during the last three years.
Some 40% of food bank users are kids. Into this grey and dreary reality, a little Santa Claus jumping out of plane must fall – and fall they did at Louise McKinney Park, to kickoff "halfway to Christmas." Check out the video, below.
"To be a benefiting charity with The Singing Christmas Tree not only helps us reach our goal, but also helps us raised awareness far ahead of the Christmas rush." said Marjorie Bencz, Executive Director, Edmonton's Food Bank. "We are grateful to be a part of this spectacular and inspiring Christmas production!"
The Edmonton Singing Christmas Tree will run a week earlier this year – December 7 to 9 at The Northern Jubilee Auditorium. For updates about The Edmonton Singing Christmas Tree 2012, visit edmontonsingingchristmastree.com,