STERLING AWARDS: No hard feelings from shut out Lemoine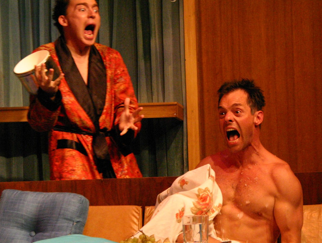 It's certainly nothing to stop the presses over – or whatever has replaced presses – to report that the Citadel Theatre once again cleaned up at the annual Sterling Awards, held Monday night.
Edmonton's most popular theatre took away seven of the awards (named after the late Edmonton theatre impresario Elizabeth Sterling Haynes), including outstanding production of a play (Death of a Salesman). The Mayfield Dinner Theatre, meanwhile, carried the day for outstanding production of a musical, for Chicago. Also worth noting at the top of the story is relative neophyte playwright Belinda Cornish, victorious in outstanding new play for Little Elephants, with Valerie Planche named outstanding actress for her role in the play. (Full list of winners below.)
What's interesting now is to explore a few questions with Stewart Lemoine, Edmonton's most prolific playwright, and whose company Teatro la Quindicina won not a single Sterling on Monday night, despite being nominated for several.
Q: Do you feel bad about it?
A: It's a thrill to be nominated. It really is. There were some great nominations across the board. But I won the last two years, so it's OK. I was really happy for Belinda.
Q: Does a Sterling make better box office for a theatre company?
A: Well, the shows aren't running anymore, so no, not really. But it certainly doesn't look bad on your resume. It's not like Broadway, where one Tony can get you a summer's worth of audiences.
Q: Do local people ever get their noses out of joint about these awards?
A: I think there may have been a few over the years, but nothing I can remember.
Q: You have such a humble and gracious attitude about the whole thing. How do you do it?
A: I've been to all 25 years of the Sterling Awards, and it's just the best part. It's just such a great celebration. We work so hard throughout the season, and then it's over, just like that. So it's nice to take a look back at the season that was – seeing what everybody else did while you were doing what you were doing."
And the season isn't over yet – not for Teatro la Quindicina. The company is running counter to tradition by running plays throughout the summer. The next one is called A Grand Time in the Rapids – a remount of Lemoine's 2005 farce dealing with a crazed etiquette expert – running July 5-21 at the Varscona Theatre and starring Jeff Haslam and former MAD-TV star Ron Pedersen (top picture).
2012 Winners:
Outstanding production of a play: Death of a Salesman (Citadel Theatre)
Timothy Ryan Award for outstanding production of a musical – Chicago (Mayfield Dinner Theatre)
Outstanding new play: Little Elephants by Belinda Cornish (Shadow Theatre)
Outstanding director: Kim Collier, Red (Citadel)
Outstanding performance by an actress in a leading role: Valerie Planche, Little Elephants (Shadow)
Outstanding performance by an actor in a leading role: Brian Dooley, Michel & Ti-Jean (Theatre Network)
Outstanding performance by an actress in a supporting role: Nicola Elbro, Little Elephants (Shadow)
Outstanding performance by an actor in a supporting role: Julien Arnold, A Midsummer Night's Dream (Citadel)
Outstanding independent production: Hroses: An Affront to Reason (Azimuth Theatre)
Outstanding set design: David Boechler, Red (Citadel)
Outstanding costume design: Deanna Finnman, The Mikado (Edmonton Opera)
Outstanding lighting design: Alan Brodie, Red (Citadel)
Outstanding score of a play or musical: Jeff Unger, Pinocchio (Alberta Opera)
Outstanding musical director: Don Horsburgh, The Rocky Horror Show (Citadel)
Outstanding choreography or fight direction: Laura Krewski, Chicago (Mayfield)
Individual achievement in production: Jim Meers, props builder
Outstanding production for young audiences: Pinocchio (Alberta Opera)
Outstanding artistic achievement, theatre for young audiences: Farren Timeteo, director, Pinocchio (Alberta Opera)
Outstanding Fringe production: Bells Are Ringing
Outstanding Fringe new work: Mothership Down, by Marty Chan
Outstanding Fringe performance by an actress: Jocelyn Ahl, Bells Are Ringing
Outstanding Fringe performance by an actor: Dave Clarke, The Unseen
Outstanding Fringe director: Kate Ryan, Bells Are Ringing
The Ross Hill Award for career achievement in production: Marian Brandt
The Margaret Mooney Award for outstanding achievement in administration: Alana Broomfield
Outstanding contribution to theatre in Edmonton: Carl Hare