Korn to keep it as real as possible at Boonstock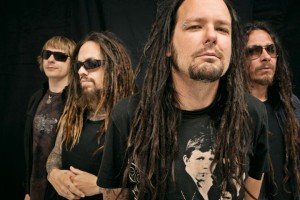 It's a golden opportunity to talk to Korn's new drummer Ray Luzier, to see how he feels about the band experimenting with dubstep on its latest album, The Path of Totality – a type of electronic dance music where the services of a real drummer are not usually required.
He relates a fan encounter, "One girl came up to us recently and said, 'I don't even know who Korn is, but I bought your CD because it had Skrillex on it.' Times are changing – but she came to the show!"
Korn plays Saturday night at the Boonstock Music and Arts Festival in Gibbons, Alberta, as does the Crystal Method, a popular electronic music duo where the services of a real drummer are not required. Coincidence, you say? There's clearly some sort of musical detente going on here, an easing of strained relations between the rock 'n' roll and electronic music camps. If there's an epicentre of glasnost in Gibbons, Alberta, there's bound to be more. Same sort of thing happened in the early '90s with hip hop when Lollapalooza started booking acts like Ice-T and Beastie Boys, at a time when mainstream "rap rock" was a relatively novel concept.
Luzier is a professional – schooled at the Musician's Institute in Hollywood, where he became an instructor, played with people like David Lee Roth, members of Stone Temple Pilots and Filter before he took the Korn gig in 2009. He says the secret to surviving and thriving in the music business is keeping an open mind. Luzier was a session guy for many years, called upon to play Latin music one day, country the next, thrash metal the day after that. He learned to adapt.
"I'm all about playing for the song," the 40-year-old drummer says. "If it calls for a drum solo, I'll play it, if it calls for laying back, I'll do that."
Asked if he feels like second fiddle to the programmed tracks he has to play along with in Korn's new music, which fans seem to have a love-hate relationship with, and little middle ground (there's going to be about five new songs performed at Boonstock), he replies, "It's more like adapting to what's going on. I'm obviously more of a fan of playing freestyle, it's more of a feel to me not to have a click track. We're human. We're not perfect. I like the imperfections of playing music. I'm a huge fan of that. But I'm also a fan of the programming bands like Manson and Nine Inch Nails and Ministry, heavy bands that did programming through the years and it worked for them."
Nonetheless, he complains, "A lot of pop bands these days, that's all they have running. They're not even playing live."
While there are a handful of songs where Luzier will be playing along with electronic beats, there are other tunes where it only seems like he is, using electronic drums to trigger the studio percussion sounds. He was a bit leery about the idea, at first.
"When (singer Jonathan Davis) approached me I was scared," Luzier says. "It would be really, really lame to go up there and air jam and he said, 'hell no, you're going to play everything note for note.'"
They like the flaws – it makes the music more human, and thus, better.
"There's a beauty in imperfections," Luzier says. "I saw one band recently – I won't mention their name, but their initials are L.P. The guitar player literally stopped playing and I could still hear massive guitars coming from the PA, and I look over and I'm like, really? Come on."
Luzier remains a fan of David Lee Roth, whom he played with for nine years, and agrees that the Van Halen frontman is getting an unfair rap for "missing cues" on the current tour when what he's really doing is trying to inject a little spontaneity into a business that's in danger of becoming a giant karaoke industry.
It happens, by the way, that LP is headlining Sonic Boom in Edmonton Sept. 2. Watch the guitarist.
Boonstock, meanwhile, runs through Sunday, July 1. Tickets are available at the gate. Korn and the Crystal Method play Saturday, Sunday features Billy Talent, along with dozens of other acts – rock and electronic or both – on three different stages.