Sam Roberts Band to play Capital EX festival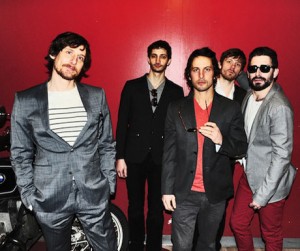 The soon-to-be-ex Capital EX festival is throwing a big rock party in the last year operating under its short-lived name that replaced Klondike Days. A short list of new name suggestions will be released on July 10. Meanwhile, Sam Roberts was announced Thursday as another big headliner at the Telus Stage, playing Saturday, July 21.
Winner of six Junos (and counting), the Montreal singer and his band are touring behind their most recent album, Collider, which if anything has gone even deeper into the band's magical fusion of folk, rock, soul and socially conscious messages. Expect to hear the new singles "I Feel You" and "Without a Map," along with hits that made Roberts such a big deal to begin with: "Bridge to Nowhere" and "Don't Walk Away Eileen," you name it, they're probably going to play it.
Also announced was a good rock friend in this town: Sebastian Bach, of Skid Row and solo fame. A fixture of the Hollywood hard rock scene for a long time, the singer has even performed on Broadway.  He should have some new material, too. Maybe some Sondheim?
Rounding out the Telus Stage line-up so far are Awolnation (July 20), Theory of a Deadman (July 23), Lights (July 24), Mother Mother (July 25), and George Canyon (July 26). More will be announced soon. Admission to all concerts is free with your Capital EX pass. The "Multi Day Pumped Up Fun Pass," giving 10 days of admission for $30, is on sale now.