WEEKEND MUSIC PREVIEW: Hooray for Canada!
This weekend's music options are dominated by The Works and Jazz festivals, with the latter ending on Saturday, and the former continuing into next week. And of course, Sunday is our country's birthday! There's a couple of great shows on Sunday to celebrate.
Friday
Performances for The Works Art & Design Festival (all at Churchill Square): The Awesomehots, Zachary Lucky, Giest, The Magnetic North. Free admission
Edmonton International Jazz Festival (various venues) – Celsius Quartet, Tommy Smith – Karma, Louise Dawson.
Dead Ghosts – This garage-punk act  from Vancouver recently released a split single with buzz band Smith Westerns. Lad Mags, The Patterns, and the Betrayers open. The Artery, 7:30 pm, $10.
Collective West – Recently nominated for an Edmonton Music Award, this folk-rock act plays Avenue Theatre along with another local favorite, Erica Viegas. 8 pm, $10.
Saturday
The Works: Dragon Fli Empire, Deon Blyan, Candelora.
Jazz Festival: Terell Stafford, Shuffle Demons.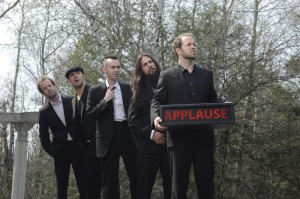 Finger Eleven (right) – This Ontario rock band, formed in 1989 and perhaps best known for the 2003 power ballad One Thing, will be performing music at a post game cabaret after the Eskimos game at the Commonwealth Stadium Field House. 8 pm, $29, buy here.
Lucas Chiasson – This young talent from Cochrane plays a CD release show at The Artery. The 18-year-old released his first album in 2010, for which he was nominated for the "Young Performer Of the Year" award at the Canadian Folk Music Awards. Other performances include NEK Trio, and Alice Kos and Everett LaRoi performing as a duo. 8pm, $10.
Canada Day
The Works: Low Flying Planes, Nik 7 and Jaycie Jayce (of Shout Out Out Out Out), Kumon Plaza.
The Wet Secrets (top picture) – "Campy … fuzz rock" is how this band describes themselves. They'll be performing at a Canada Day celebration on the Legislature Grounds, along with Jeff Stuart And the Hearts, and Mireille Moquin. 3 pm, free.
Bison B.C. – This Vancouver blues-metal band headlines a Canada Day show at the Pawn Shop. Also on the bill is local band Black Mastiff, fresh off a set at Sled Island, as well as The Get Down, LavaGoat, and Galgamex. 7 pm, $15.