REVIEW: The Three Amigos es autentico Mexicano, gringo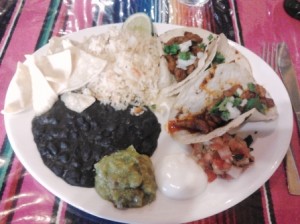 A Mexican restaurant in Edmonton has a few natural obstacles to overcome in finding an appreciative audience. The big one is that it's located in Edmonton, where for many years the parameters of Mexican cuisine were defined by Tacos of the Bell and Time variety and Chi Chi's, gringo-friendly precursor to the modern Chili's, where your margarita was big enough to drown a kitten in and cheese wasn't so much an ingredient as a fixative to keep your food from sliding off your plate.
The Three Amigos (4035 106 Street, 780.490.6394), a rare purveyor of more authentic Mexican fare, faces different challenges. For one, it's tucked into a nondescript strip mall near Whitemud Crossing that pretty much precludes finding it by accident. For another, it's ostensibly named after a mediocre '80s comedy that was a career highpoint for no one except possibly Martin Short. And the first sight that greets you upon entering is the garish service counter of the Amigos' down-market Siamese twin Mariachi Donairs, which might deter someone who doesn't notice the more comfortable and festive cantina space immediately adjacent.
A further detraction I have encountered each time I've been there is the big flat screen TV on one end of the room that shows burly bald men in tiny shorts doing their best to beat each other's faces in with bare fists. Clearly I'm not a fan in general of UFC or MMA or however you acronymize your bloodsport , but I find it especially off-putting when it's provided as a conspicuous component of a dining experience.
There, I've said my bit. Let's talk about food.
The Three Amigos' menu is surprisingly broad and varied within its niche, encompassing the sorts of nibblies to which Tex-Mex joints and sports bars have habituated us as well as more exotic selections and a goodly array of dessert options. I didn't learn the nightly drink specials off by heart, but rest assured you can still wash down your tostadas with value-priced adult libations.
Places like Don Antonio's (RIP) and Tres Carnales have instilled in me an appetite for tacos al pastor, so I was instantly enticed by the Amigos' version of said dish ($13.99). Previous experience gave me to expect a sweet condiment alongside, like pineapple salsa, but the present version featured fresh salsa, sour cream and guacamole, along with generous helpings of rice and black beans with a fresh-made tortilla chips for scooping. While these were lovely additions, the tacos – tender cubes of marinated pork on three soft tortillas with diced onions, cilantro and a squeeze of fresh lime – scarcely needed any help in the flavour department. The saucy pork struck a nice balance of savoury and spicy, with the starchier sides nicely offsetting the burn.
On the next visit, I decided to venture into more exotic territory – chicken enchiladas with mole sauce ($14.99) would test the kitchen's mettle, as mole is a notoriously labour-intensive and tricky preparation involving a couple dozen ingredients. The rich sauce usually requires a day or so to cook in order to reduce its complex blend of tomatoes, aromatic herbs and spices, chilies, cocoa and ground nuts to a thick, tantalizing, gravy-like substance as indecipherable to the tongue as it is impenetrable to light. All you really need to understand is that it's delicious.
The Amigos' mole lived up to expectations in richness and complexity, and was provided in generous enough quantity to drown three rolled tortillas stuffed with shredded chicken and feta, and still leave plenty for dredging up with the broth and onion-imbued heap of rice. As with the prior platter, I thoroughly enjoyed the hearty side of stewed black beans, but thought the plate could have used a light, crispy contrast like a simple salad or some curtido.
All this should have been plenty, but I had to dip a proverbial toe into the dessert menu. My server recommended the empanadas de piña ($5.99) and who was I to doubt her? She did not steer me wrong, as it turned out. Two flaky turnovers had been filled with pineapple chunks and deep-fried, then lavished with vanilla ice cream, butterscotch syrup and cinnamon in my honour. I balk at the excessively sweet, but the eponymous pastries and their fruity filling weren't too sugary so as to nicely offset the fixin's. The Amigos were three for three in laying on the quality Mexican eats. Perhaps becoming desensitized to the sight of tattooed homunculi flattening each other's noses is part of the price of admission.