EDMONTON RADIO: Melissa Wright more than just a Rock Chick
K-97 midday host Melissa Wright has a tacit agreement with her mother – she won't talk about her mom on the air, and her mom won't listen just in case she does.
As it happened, one afternoon both mom and grandma were in the car and flipped on the radio just in time to hear Melissa say these words about childbirth: " … my mom told me your vagina never looks the same. It just never looks the same!"
Wright recalls, "And I get a text, 'WHAT?! By the way, mine is beautiful …' Grandma didn't say a word. Maybe her hearing aid wasn't on, I don't know."
(If you're a fan of the K-97 Drinking Game – every time you hear the word "vagina" – you know what to do.)
Melissa Wright is, as far as we know, the only woman on commercial Edmonton Radio who hosts a show by herself. She's on every weekday on CIRK FM 97.3 from 10:30 a.m. to 3 p.m. It's not the coveted morning or drive-time slots, but she owns the classic rock midday and the All Request Nooner therein (not too shabby hours for a workday, either). Wright has no partners save for callers, delivers no shtick, emits no wacky noises, imitates no characters, promotes no debauchery, and there shall be no riffing on Kim Kardashian or things 10 other Edmonton Radio announcers are talking about at the same time. Wright comes up with her daily topics – vaginas after childbirth, say – literally 30 seconds before she goes on.
"I work so much better under pressure," she says.
Twelve years on the air at K-97 now and 15 years in the radio business after coming out of a night broadcasting course at NAIT, Wright is a "Rock Chick" in the very best sense the term. She's fond of Sabbath and Zeppelin, and claims to know to the second the length of any classic rock hit you'd care to name. In-A-Gadda-Da-Vida is "16 minutes and 34 seconds," which was exactly long enough for a radio DJ to pop outside to smoke a couple of joints – "and that's the reason the song became so popular," Wright says.
Stairway to Heaven – "7:34"
Bohemian Rhapsody – "5:54"
Close enough. It's actually 5:55. Huh, you'd think it would be longer than Stairway to Heaven …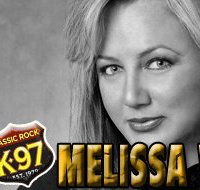 Anyway, Wright's classic rock credentials appear to be in order. This is good because she gets far more requests on the All Request Nooner than she can possibly play, so she picks the best at her discretion, effectively exerting more control over music on the radio than most program directors have – at least for that one hour.
"I've worked for stations where I don't like the music, and it's hard," she says. "Anytime I get pissed off at work, where I don't get a raise I wanted or something, I think: Melissa, you could be playing Conway Twitty right now, so shut up."
It's tough for a woman in radio. CHED radio's Lesley Primeau touched on this issue a few months ago, saying that it's not sexism, but some kind of hard-wired thing in the human brain: A female's voice is higher pitched and "people don't take it as seriously," Primeau said, citing studies. There are only a few examples of female DJs in popular culture – a memorable one being the pirate radio chick in the fine 1979 feature film Warriors, where all you saw were her lips and the microphone – and in every case, the female announcer has this deep and sultry voice, a relatively rare thing. It's simple anatomy.
Wright has a different explanation: "Women generally don't like other women. That's why you don't get the Real Househusbands of Atlanta. Women are bitches. I don't think that as a rule, unless you're a sidekick, the traffic girl, or the weather girl, you get many women in a power position on the air, as the host of their own show. Women don't like to listen to other women, and I don't think men like to hear women tell them what do, either. They get enough of that at home."
She put one male caller in his place not too long ago. The topic was the Wildrose anti-gay fracas, Wright recalls, and the guy called in to say his daughter called him homophobic because he calls gay people fags. "And he goes onto explain why he thinks fags are fags, that it's unnatural … and I let him talk. It was the typical Neanderthal redneck thing. And then I soundly thumped him and said, 'you're an idiot, don't ever call here again, in fact, don't even listen to me.' I thought for sure I'd get in trouble."
She didn't. Wright has never been reprimanded for anything she's said or allowed on the air. Of course, she's protected. "Look at what the guys say in the morning."
Along with on-air duties, Wright gets to interview some of the classic rock stars coming to town, a big thrill for any classic rock fan: people Colin James, Aerosmith, Sammy Hagar, Roger Hodgson, Alice Cooper. She says she was disappointed to discover that her Grade Eight heartthrob Ian Astbury turned out to be a wee man like Bono, adding, "Drugs do stunt your growth."
She says the most embarrassing incident came early in her career when she asked Triumph's Rik Emmett, who was playing some bar somewhere in town, "What was it like when you were really big?" Way to hit the nail on the head. Emmett "was a real gentleman" about it, she adds.
Though not the type of radio person who knows all the nuts and bolts and PPMs and who owns what, Wright has a few ideas. On the flaw of listener testing, she says the songs that test highest are the most familiar because people don't like to admit that they don't know something – and if you don't introduce people to something they've never heard before, even from the past, the people are just going to stay that way and radio will remain stale. For future classic rock, time will tell what stands the test of time (as Sammy Hagar once sang). Wright would probably put money on the Black Keys. She also agrees with Sonic radio's Garner Andrews that you have to give listeners a reason to stick around beyond playing the hits. You need to give them some personality, something interesting to think about, and get callers in on it. Wright has been in her current slot for so long for a number of reasons, but regular listeners seem to appreciate her knack for cutting through the bullshit.
"I don't ever pretend to be anything I'm not," Wright says. "I don't pretend to be the cool girl who likes hockey. I hate hockey. I'm thrilled when our team doesn't make the playoffs because then I don't have to talk about it. I don't try to be raunchy, or cool, or be one of the guys. I'm very much a girl. Do I talk about The Bachelorette? No. Do I watch it? Totally."
She confesses a dark secret: "I will freely admit that my huge concert wish, the band I have to see before I die, is Duran Duran."
You know, there is such a thing as too much information.
(Illustration, top, by cartoonist Gerry Rasmussen, co-creator of the popular newspaper strips "Bub Slug" and "Betty")