FESTIVAL SCORECARD: Too many festivals? Not enough festivals!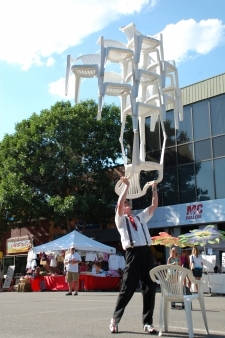 Edmonton is unique amongst Canadian cities in that we have five seasons: winter, spring, summer, fall and festival.
Festival season is roughly defined as beginning with The Works Art and Design Festival and Edmonton International Jazz Festival in June, and ending with the Symphony Under the Sky near Labour Day. After that, it's back to work, or anyway, school. Oh, sure, there are attempts at festivals in the winter, but really, winter is a time to save up your energy for the upcoming festival season.
It's easy to lose track of all the festivals and events that call themselves "festivals" during this, the most festive of seasons. We've already experienced the beauty, weirdness and sometimes-outright goofiness of The Works, and the jazz festival folks have packed up their trumpets and left town – but we've only gotten started.
First up is the Edmonton International Street Performers Festival, beginning Friday and running to July 16. The annual fest of fools is the best "free" show in town, with Churchill Square the hub of all the professional foolishness. But just because it's free doesn't mean you shouldn't throw a few loonies or twonies into the hat following a particularly inspired performance. Downloading a Hollywood blockbuster is one thing, but stiffing a street performer who just busted his ass in 28C temperatures is just not right. That's how these people make their living, including one "Chairman Jim," above.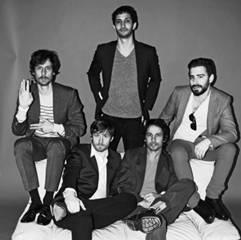 July 19 heralds the most active weekend on the Edmonton festival scene, with two established faves and an up-and-comer all vying for your attention and dollars. There is the festival devoted to those pretentious types who call themselves "foodies" (and anyone else who just likes to eat) and who don't mind shelling out big bucks for small portions — A Taste Of Edmonton downtown from July 19-28, right next to Churchill Square. July 19 is also the day of the annual (Fill In Name Here) Parade, once known as the Klondike Days parade, then the Capital Ex parade and as of next year the Some Other Name Parade. The granddaddy local festival of them all, whatever it's called, kicks off July 20 at Northlands. Say what you like about the "Ex," but it still draws hundreds of thousands of fairgoers, and Northlands has done a pretty good job of bringing in a wide variety of entertainers to the Telus stage this year, from Sam Roberts (above) to Theory of a Deadman to George Canyon and all sorts of stuff in between.
While not strictly speaking a festival, fans of fast cars that go round and round are in a festive mood when the Edmonton Indy returns July 20-22. Again, Churchill Square will be the hub of Race Week activities.
While the party-hearty gang heads out of town for Big Valley Jamboree with acts like Toby Keith (Camrose, Aug. 2-5) and the Blueberry Bluegrass Festival (Stony Plain, Aug 3-5) and acts like Four Chords of Wood, Edmonton hosts the more sedate and family friendly Heritage Festival (Aug. 4-6) in Hawrelak Park, with all the ethnic dancing and food-on-a-stick you can handle.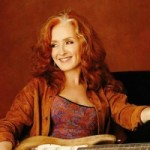 Aug. 9-12 brings a little something called the Edmonton Folk Music Festival. Seriously, Edmonton, you've got to get behind this event before it dies. Just kidding! Tickets are most definitely NOT available at the door, and only partly because there is no door. (It's sold out. Again.)
Edmonton's most colourful parade – or at least a close second to the Pride Week parade – kicks off the Cariwest Festival (Aug. 10-12), leading up to Edmonton's pride and joy, the world renowned Edmonton International Fringe Theatre Festival (Aug. 16-26). You'll laugh, you'll cry, you'll eat green onion cakes in the beer tent.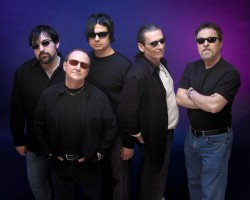 For those who like to rock – and, seriously, who doesn't? – the second annual Rock Music Festival muscles in on the scene Aug. 17-18 in Hawrelak Park with the likes of Blue Oyster Cult (right), April Wine and Trooper. Raise a little hell, indeed.
Another relative newcomer to the festival scene is the third-annual Edmonton Latin Festival in Churchill Square Aug. 18-19, where an attempt will be made to set the Guinness World Record for the largest zumba class ever. It's unlikely there will be much zumba-ing at the Edmonton Blues Festival in Hawrelak Park Aug. 24-26, though there is expected to be some mojo working.
And finally, as a sad but beautiful coda to summer, the Edmonton Symphony Orchestra abandons the luxury of the Winspear Centre for the earthier delights of Hawrelak Park for Symphony Under The Sky (Aug. 31-Sept. 2). This year's festival includes the symphony's traditional something-for-everyone mix of classical (Mozart, Rossini, Tchaikovsky, Ravel), some Hollywood (John Williams, Randy Newman, et al) and Broadway (with Louise Pitre of Mamma Mia! and Les Miserables). And it all ends with – you guessed it, a bang – with the cannon-assisted 1812 Overture.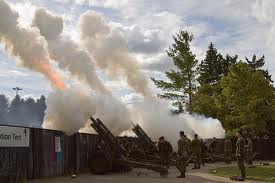 Have we missed any? Of course we have. Did you know the Irish Literature Festival also starts this Friday? And don't forget the Feats Festival of Dance, ongoing through July 14; or the new festival on the block, the Interstellar Rodeo, July 27-29 at Hawrelak Park and featuring acts like Randy Newman, and then – after Symphony Under the Sky – the Kaleido Family Arts Festival where the Alberta Avenue community, the Old Strathcona of the North, into Festival Central Sept. 7-9.
Work will feel like a rest after this.