THEATRE: Ron Pederson proves you can go home again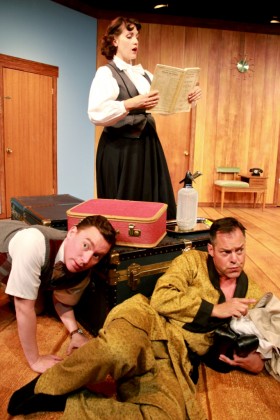 The case of actor Ron Pederson is more evidence supporting the old saying: You don't know how good you've got it at home until you leave.
From an almost sure shot at fame in Hollywood – where funny Canadians seem to shine – the former star of MAD-TV, writer-performer for the Craig Ferguson Show and a good contender for Saturday Night Live is back in Edmonton from whence he came. For a time, that is, before he heads home to Toronto. Still in Canada, anyway. Not Hollywood. He hasn't lived there for five years.
Pederson is starring in the remount of Stewart Lemoine's madcap farce A Grand Time in the Rapids, at the Varscona Theatre through July 21, as a newspaper manners expert who is asked to come to help a strange woman (Jocyeln Ahlf) reveal certain secrets to the new man in her life (Jeff Haslam). Since this is a madcap farce written by Stewart Lemoine, he says yes. Chaos, naturally, ensues.
The Theatre, Pederson declares, "is where I feel my self-expression is at its best, where it's perfect, where we've worked on a play and we're in a theatre full of people."
He missed that in Hollywood. Apparently there's not much cross-over to theatre in Los Angeles – Broadway being a long, long way away in more ways than one. Pederson says his MAD-TV co-stars thought he was nuts for going to back to Canada to do a play during one break the series. It's just one symptom of how compartmentalized the American entertainment industry is. If you're a sketch comic, that's what you do and that's it. That wasn't the half of it.
"I got a bad taste in my mouth from MAD-TV where most of the creative decisions were made by executives who have never entertained anyone, ever," Pederson says. "I was tired of jumping hoops and I missed my country, I missed Canada. I had it pretty great here before I left."
We're sensing a pattern. Tommy Banks said more of less the same thing about his early-'60s stab at fame on the Las Vegas lounge circuit. He might be the Wayne Newton of the alternate universe if he hadn't realized how good he had it in Edmonton. Likewise local saxman Brett Miles, in this case with New York City.
In Toronto, Pederson says, he can do plays, sketch comedy, write material for comics, do a TV thing, play a role in a film, you name it, plus he runs his own theatre company, called the National Theatre of the World. Straight after A Grand Time In the Rapids, he'll be producing and starring in the Ron Jenkins' Sterling Award-winning one-man show "Extinction Song" in Toronto.
These are the sort of things he couldn't do in Hollywood. Then again, when you do the sort of work that Pederson does in Hollywood, there are always industry people there looking for talent – and that's exactly how he landed the MAD-TV gig. SCTV's Joe Flaherty was in Edmonton guesting in the Die-Nasty live improvised soap opera and had so much fun he invited some of the cast down to "play" with him in L.A., along with Catherine O'Hara and Martin Short. Short also had lots of fun, liked the young Edmonton actor, made a couple of calls and before you could say bada bing bada boom, Pederson was a TV star.
"It happened very easily and very swiftly," he says.
And maybe there's the rub. Because it could happen again. While he missed Canada while he was in Hollywood, Pederson admits he also gets the funny feeling he's going to miss out on something in Hollywood – which is why he's going back. So just scratch that whole thing about there being no place like home.
"I'm probably going to go back to LA in the new year for a chunk of time just to see what it's like now," he says. "The bad taste is out of my mouth – and now I'm just willing to go take a look again."
And the thing about Hollywood he misses the most?
He says, "My friends – and some great restaurants."