WEEKEND MUSIC PREVIEW: Tyga in our midst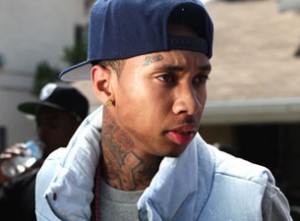 No need to wait until Capital Ex – whose theme in the last year under its current name is music – and then the Folk Festival, where music is a given. There's a number of local gigs worthy of your attention this weekend. Singer-songwriter Andy White performs at The Artery on Friday night, while Brock Tyler and Alex Vissa are at The Elevation Room. On Saturday, the biggest name in the city this weekend – California rapper Tyga – takes center stage at Edmonton Event Centre. For hard rock, Kingdoom headlines a night of metal bands at the museum, and Gorgon Horde playing an early show at the Pawn Shop.
Friday
Andy White (above) – This Belfast born singer-songwriter has been working on his extensive discography since 1986's "Rave On Andy White." His most recent effort was a collaboration with another famous singer-songwriter, Canadian Stephen Fearing. His music is both bardic and intelligent, no surprise he holds English Literature degree from Cambridge University. Sherry-Lee Wisor opens. Artery, 8 pm, $15.
Speed Control – Another interesting metamorphosis is the basis for this Whitehorse hard rock-punk act, which got its unlikely start in the University of Toronto's Jazz Performance Program. New City Legion, 8 pm, $8.
Brock Tyler and Alex Vissia – The Elevation Room continues its trend of showcasing incredibly smart and talented local folk acts with this combination of performers. Vissia has kept herself busy this summer with touring and working on some new tracks for an EP to be released in early 2013, to be called "Young Love" and "slightly heavier and somewhat more laid-back," she says. This may be one of the last chances you get to see Vissia in Edmonton this summer, so don't miss out (but expect some dates across all of western Canada beginning in September). The Young Albertans also perform. 8 pm.
Saturday
Kingdoom – It's not often you get to experience metal music in a museum, which makes this lineup all the more intriguing. The headliner, a local industrial metal act, worked with some of the most well-known artists in the industry for its debut album, including Chris Vrenna (NIN, Marilyn Manson), Sylvia Massy (Tool, Slayer, System Of a Down), and Trevor Hurst (Econoline Crush). Madelina Horn and Face First are also on the bill. Royal Alberta Museum Theatre, 6 pm, $15.
Gorgon Horde – This local hard rocking trio formed just a few years ago, and already has an EP and two full-length albums to its credit. Also, they're a little bit crazy – but that's a good thing in the music world, isn't it? The Press Gang and AMNW open. Pawn Shop, 7 pm, $8.
Tyga – Born Michael Nguyen-Stevenson, this Los Angeles rapper (right) first achieved notoriety with the track "Coconut Juice" featuring Travis McCoy (Gym Class Heroes) in March 2008, the only single released from his debut album "No Introduction." Tyga (an acronym for Thank You God Always) is now touring to support his second studio album "Careless World: Rise Of the Last King," which unsurprisingly hit No. 1 on the American R&B and Rap charts. Edmonton Event Centre, 9 pm, $43.25 and up. Buy here.