Skrillex gig finds a home at the Shaw Conference Centre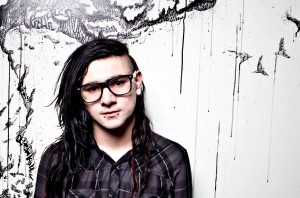 Electronic dance music fans can stand down from red alert – the Skrillex gig has been saved.
Bumped from the St. Albert Kinsmen Park venue after being denied a permit, the show will now take place on Friday, July 20 at the Shaw Conference Centre. All previously held tickets will be honoured, no need to exchange, or may be refunded at the point of purchase until July 13. Fresh tickets to the event are on sale now. The "Full Flex Express Tour" will also feature Pretty Lights, Diplo, Grimes, Koan Sound and Tokimonsta.
Skrillex – a.k.a. Sonny John Moore – is the 24-year-old wunderkind of electronic dance music, a former punk rocker who started mucking around with computers and never looked back. He scored three Grammy Awards this year for his work on his 2010 release, Scary Monsters and Nice Sprites.
Not that it would have much effect on the show proper, but this tour is being carted across Canada on a private train, inspired, says the press release, but the Festival Express tour with Janis Joplin, the Grateful Dead and the Band back in 1970, just, you know, without as many actual musical instruments.