What's in a name? Edmonton doesn't have a clue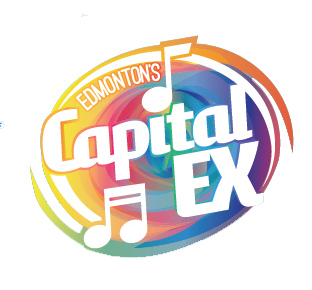 Edmonton can't be the only city that has such a boneheaded habit of badly naming and then constantly renaming its festivals, buildings and streets.
On July 10, organizers of the Capital Ex festival released the six choices to replace the name Capital Ex, which had in turn had replaced Klondike Days. They are:
– EdFest
– The Edmonton Exhibition
– Edmonton Summer Exhibition
– River City Festival
– River City Summer Fair
AND … wait for it:
– K-Days
And so the citizens of Edmonton trudge to the polls once again. The winner will decided an on-line vote, revealed on the last day of the festival formerly known as Klondike Days, on Sunday, July 29. (UPDATE: It's K-Days.)
For you whippersnappers too young to remember K-Days, Edmonton's storefronts used to be festooned with the trappings and gimcracks of a bygone era that never existed. Citizens willingly dressed in the completely unsexy coal black-and-harlot-red fashion that was big 150 years ago, rallied around the ridiculous theme with, well, if not exactly pride, then civic duty. We all looked ridiculous together. Sadly, just as all sorts of fact-based grumbling ruined Columbus Day for the Americans, cool people pointed out that Edmonton had nothing to do with the Klondike, and that getting to the Gold Rush via Edmonton would be like getting to Carnegie Hall by way of Cleveland. It can be done. It would just take a long time.
And so, since it was embarrassing and stupid, Klondike Days was gassed. People hated Capital Ex even more. As Edmonton Northlands spokesperson Jennifer Sheehan puts it, "It think it was something that Edmontonians didn't connect to – and they told us as much."
Capital Ex is just the tip of the appellational iceberg when it comes Edmonton's naming woes. Our theatres, our arts organizations, our very roads are freighted with unnecessary periphrastic baggage, changed just when people are starting to get used to it and in need of a nomenclatural weed-whacker to slice out the superfluous verbage, noun blockage and rampant adjectivitis. If we could factor out the words "Edmonton International" that appear at the beginning of every damned local festival, we'd have more time to actually attend the festivals.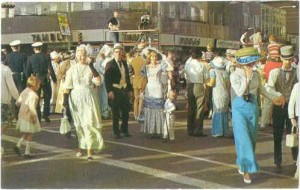 There are little things that annoy. Locals hang their head in shame to remember the "2001 IAAF World Championships" we hosted that were dubbed the "WORLD'S," with the damning superfluous apostrophe splashed on billboards everywhere, prompting cartoonist Stephen Notley in his strip Bob the Angry Flower to declare Edmonton "the apostrophe retard capital of Earth." We'll never live that down.
Even radio stations weren't safe. For some unknown reason, K-97 changed its name to K-Rock, which no one at the station seemed to realize spelled "Crock," so after a few awkward years, they changed it back to K-97 – but now everyone calls it K-Rock. Terribly confusing. One question: Will Capital FM change its name when Capital Ex does?
Now a word about streets. As we motor up Mark Messier Trail – replacing the 150-year-old St. Albert Trail, sending historians into a tizzy – you may wonder what Edmonton will look like when more Oilers get streets named after them. Check out the night life along Yakupov Avenue! Can anyone remember whether it's Gateway Boulevard or Calgary Trail that actually leads to Calgary? Or why it's Millwoods Road in Mill Woods and Castle Downs Road in Castledowns? However, anyone who's tried to find their way around another city knows we're not alone in road naming lunacy. There's a street in Winnipeg that changes its name at least four times along its crooked length. Consider ourselves lucky that most of our streets have no name.
Let's not point fingers. It's not one person's fault. The very worst local names – like Capital Ex – were created by committee. Bin Lau, spokesman for the seriously-named Edmonton Economic Development Corporation, gives a serious answer to the question of what's up with our names: "A lot of cities have challenges getting a name to stick," he says, adding that a good name should hopefully do more than tell you what the thing or place is, but educate as well. And you wonder why some of these names are so long, and yes, we're looking at you, Edmonton International Street Performer's Festival. All they need now is a name sponsor.
Corporate sponsors are a necessary evil in the name game. Skyreach Centre only lasted five years because the local cherry-picker purveyor went bankrupt – so now it's Rexall Place, and we hope a similar fate won't befall Daryl Katz. When the hockey arena was built in 1974, it was Northlands Coliseum, which lasted until rebranded as the Edmonton Coliseum in 1995, Skyreach in '98, Rexall in 2003, and then God knows what when Katz gets his new arena. There's a lesson here. Companies that want to have major public buildings named after them should have their credit ratings checked very carefully. Lucky Peter Pocklington split town when he did or we might've wound up with the Gainer's Meat Arena.
No one seems to be able to call the Telus World of Science by its proper name, preferring its more or less original name The Edmonton Space Science Centre, which was then changed to the Edmonton Space AND Science Centre because there are more types of science than space science. The short-lived "Odyssium" didn't catch on at all.
Citizens were similarly vexed when the Edmonton Art Gallery disappeared and was replaced by the swoopy forms around the box known as the Art Gallery of Alberta. Same with the Provincial Museum of Alberta turning into the Royal Alberta Museum after the queen popped by, a rare case of less words being used for a new name. More typical is not being able to find the Cosmopolitan Music Society because it was renamed the Old Strathcona Performing Arts Centre, and let's not even discuss the Transalta Arts Barns.
The more you look, the more you find. It can drive you mad. When Metro Cinema moved into the Garneau Theatre, the beloved local film emporium was renamed "Metro Cinema at the Garneau," while across town theatre-goers could attend a play in "Theatre Network at the Roxy." If these awkward monikers are a nod to the historical significance of the free standing movie theatres of yore, then whither the Odeon, the Rialto and the Strand?
All of which, by the way, were gaily decorated with Klondike Days scenes every summer. Hey, it was stupid, but it was all we had.