WHAT'S SO FUNNY: Aboriginal comics write what they know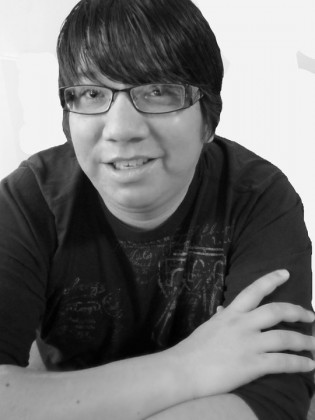 The aboriginal comics featured at "Red, White, and Hilarious: A Night of Aboriginal comedy" at Yuk Yuk's Wednesday night are expected to devote good chunks of their time to being aboriginal – saying things a non-aboriginal comic could never get away with.
At least not without getting a Pilsner bottle thrown at him.
Featured at the event is Prince George's Brian Majore, a soft-spoken comic with perfect timing – known in the trade as a "stealth" comic, even better that his nickname is "The Bloody Savage" – and material like this: "If you're playing Indian Monopoly with a white person, they can just change the rules whenever they feel like it." Other bits are more self-deprecating, "I want the same things you do, a good home, a good education, and whatever else the government wants to give me."
Co-headliner Lawrence Fehler (above) is from Edmonton, and a bit more of a traditionally in-your-face stand-up guy than Majore. Fehler makes hash of having been adopted by German parents – the jokes practically write themselves – and how mom "gave me spare change for my birthday."
If you're white and you laugh, don't feel bad. It just proves there are gifts here beyond race.
Fehler says he gets flack from fellow comics, "'You can't put the native spin on everything!' And I say, well, I AM the native spin on everything. Funny is funny no matter what. I just happen to see things from my own angle. I do get laughs for that, but I laugh at comedy in general. My life is pretty funny, and I happen to be aboriginal."
That's right: Honesty is the best policy, write what you know, know who you are, it all makes sense now.
Tickets to Red, White and Hilarious – with Wetaskiwin's Justin Littlechild as the emcee – are $16, available at the Yuk Yuk's box office, 780.481.9857.