Let's talk anarchy: Oi Polloi makes first Edmonton appearance
Oi Polloi frontman Deek Allen has seen a lot of shit in his three decades with Scotland's eminent anarcho-punk band – and he's had about enough of it.
"We started to make a few stipulations in places about the places we stay (on tour)," he says. "We don't want to stay in places that are full of dog shit or cat shit or human shit. We don't want to stay in places that have got fleas, lice, shit like that."
These poster boys for DIY longevity – in the midst of the band's first ever Western Canadian tour – won't stay in hotels on the road. And when you're asking punk rock fans to put you up night after night, you don't get a lot of quality assurance. Allen said he has literally stayed in places with no toilet, where people relieved themselves wherever they felt like it.
"It's the unacceptable face of the DIY punk squatting scene," he says.
"I like to think you can use these places and try to make them something valuable and positive. But obviously sometimes there's some people there that are just interested in getting wasted. One time we were looking through the people's record collection and a lot of the record sleeves are actually smeared with dog shit. They had these dogs shitting everywhere, they just didn't control it," he recalls.
"After 30 years of that, we've had enough. Cockroaches are not a deal breaker, but shit, we've had enough of that."
Oi Polloi will play an 18+ gig at DV8 Tavern Friday night with opening acts Intensives and Kroovy Rockers. They'll follow it up with an all-ages show at The Artery Saturday, where No Problem, Runaways and Raptor Strike will open.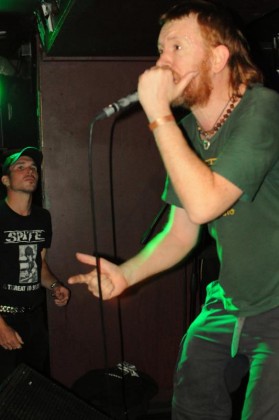 You can rest assured Oi Polloi won't be dropping poop jokes on stage a la Blink 182. The band is as serious as ever about its anti-fascist, anti-sexist, anti-racist, anti-homophobic, pro-animal rights message. Its latest album Duisg!, released in May, is sung largely in Scottish Gaelic (the title translates roughly to "wake up!"), which the band has been doing more frequently in recent years to promote the endangered language.
There was a time in the early '80s, however, when Oi Polloi was smitten with less articulate "oi" bands that peddled many a sing-along about drinking and fighting at soccer games.
"When we started we were playing a lot of covers of bands doing stuff like that, but we said, 'This is nonsense. If we've got a band and people are starting to listen to it, we might as well say something positive," says Allen, the band's only remaining original member. "Anarchism means a lot of different things to different people. The Exploited style punk, talking about chaos and smashing stuff up, that's not what our view of it is. But that's something you could discuss for hours."
Known for sample-laden songs like Bash the Fash and Fuck Everybody Who Voted Tory, Oi Polloi's uncompromising lyrics and activism have occasionally put its members in danger. A few years back at a show in Switzerland, Allen says, someone put a firebomb by the mixing desk at an Oi Polloi hall show.
Luckily, someone found the explosive and removed it in time.
"We were very lucky with that. It makes me think that you've got to be careful to an extent," he says. "But on the other hand, you can't let stuff like that shut you up."
Allen certainly hasn't. After watching some two dozen band members come and go due to work, family and other commitments, he's stuck with it despite having two kids at home. And if you care to discuss Kropotkin and the finer points of anarcho-syndicalism, don't be afraid to approach him at the band's merch table this weekend. He's always happy to, er … shoot the shit.
(Image, above, by Royal Kat Foto)